Ex-top judge pleads guilty
A former senior judge with the top court pleaded guilty on Tuesday, during a hearing in Tianjin, to taking more than 114 million yuan ($16.5 million) in bribes.
Xi Xiaoming, former vice-president of the Supreme People's Court, was charged by prosecutors with using his position at the court to provide conveniences for individuals or entities in the handling of cases and the public listing of companies, the Second Intermediate People's Court said in an online statement.
Xi showed remorse and pleaded guilty to the charges during his final statement at the court hearing, the statement said.
The prosecutors said Xi took a massive amount of bribes directly or through his family members in return for favors he provided for individuals and enterprises, according to the statement.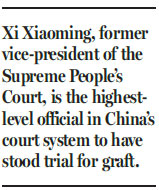 Xi, 62, was investigated on suspicion of disciplinary and law violations by the country's top anti-graft watchdog in July 2015.
The court said it decided to deliver the verdict later.
More than 60 representatives, including legislators, political advisers and reporters, took part in the court hearing, the court statement said.
Xi Xiaoming is the highest-level official in China's court system to have stood trial for graft.
He also was the first official from the country's top two justice authorities - the top court and the Supreme People's Procuratorate - to be investigated since the 18th National Congress of the Communist Party of China in 2012.
Xi, a native of Changzhou, Jiangsu province, began his career as a police officer in Heping district in Shenyang, Liaoning province, in the 1970s before obtaining a bachelor's degree in law at Jilin University in 1982.
After graduating, he joined the top court as a clerk. He rose through the ranks to become the deputy chief judge of the tribunal for commercial disputes in 1996. He became the vice-president of the top court in 2004.
During his tenure at the top court, Xi specialized in hearing economic disputes and presided over the hearing of a series of high-profile commercial cases.
Contact the writers at xuwei@chinadaily.com.cn and caoyin@chinadaily.com.cn
(China Daily 01/11/2017 page3)