Rules set for recovering stolen money
Regulation specifies scope, standards for confiscation of funds in graft cases
The top court has issued a legal interpretation regarding the criterion for confiscating money and property from accused who are deceased or have fled overseas.
Pei Xianding, head of a criminal court of the Supreme People's Court, said the move is mainly to facilitate the nation's anti-graft drive in recovering stolen money in corruption cases.
Pei said rules for confiscating money and property were first written into law in 2012, but the provisions were not specific enough and in certain circumstances were inapplicable.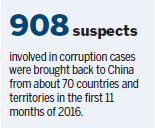 The interpretation issued on Thursday specified the scope, standards and procedures for confiscation.
Cases in five categories are subject to the legal interpretation, which include corruption cases as well as those involving bribery and terrorism.
According to statistics from the top court, 908 suspects involved in corruption cases were brought back to China from about 70 countries and territories in the first 11 months of 2016. More than 2.3 billion yuan ($33 million) of illicit money was recovered in these cases.
By the end of last year, 38 cases regarding requests for confiscation of money and property had been filed in courts across the country.
Pei said some of these cases are stuck in a preliminary stage and hindered the nation's efforts in fighting corruption.
"Cases involving accused who are either deceased or absconded are more complicated than normal criminal cases because judiciary departments can't bring them to face court trials, which means their ill-gotten money has to be processed without their appearance in court. Therefore, regulations regarding these circumstances should be in place," said Wang Xiaodong, an official with the criminal court of the top court.
In the latest incident, one of China's most wanted economic fugitives, Yang Xiuzhu, returned to China in November last year after she illegally stayed in various countries for more than a decade.
Accused of taking bribes of 250 million yuan in 2003, Yang is the latest name to be crossed off Interpol's list of 100 major Chinese economic fugitives.
Around one-third of the fugitives on the list had returned to China, either by force or of their own volition, by the end of last year.
zhang_yi@chinadaily.com.cn
(China Daily 01/06/2017 page4)