Giving the cold season a warm welcome
Beijing is gearing up to host the 2022 Winter Olympic Games by raising the number of people participating in ice-and-snow-based activities, Sun Xiaochen reports.
As Beijing ramps up preparations for the 2022 Winter Olympic Games, mass participation in winter sports and recreations has soared, a fact highlighted by bustling scenes of people playing on ice and snow around the capital.
Despite winds blowing in deep winter chills, the laughter and high spirits of children sliding down the snow slopes at the National Stadium in north Beijing have brought vitality to the venue, which is hosting the annual Bird's Nest Happy Ice and Snow Carnival.
An audience-interactive gala event featuring outdoor winter recreations, the carnival has become one of the hottest leisure destinations in town during the winter holiday season, thanks to growing public interest in winter sports since July 2015, when Beijing was awarded the Games.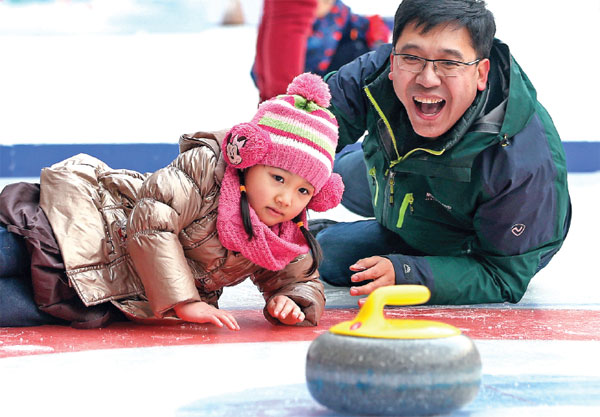 A father and daughter play curling during the trial opening of the eighth Bird's Nest Happy Ice and Snow Carnival at Beijing's National Stadium, on Friday. Feng Yongbin / China Daily
The carnival offers 11 types of winter sports and related activities in three zones spanning 70,000 square meters both in and outside the stadium, better known as the Bird's Nest, which was built for the 2008 Beijing Summer Olympic Games.
The landmark venue will be refurbished to host the opening and closing ceremonies of the Winter Games in 2022.
To cater to the growing number of visitors, organizers have expanded the participation area this year, adding an 800-sq-m curling rink, a 1,500-sq-m artificial ice rink that can be reassembled elsewhere and a row of virtual-reality skiing simulators inside the stadium.
Even so, the venue is still struggling to meet the soaring demand from urban winter sports fans.
Housewife Wang Jing has brought her 6-year-old son to the event three times since it opened in this month.
"Last year it was a little bit crowded on the weekends, but this year it seems crowded even on work days. The fun here is playing in the snow - even though it's man-made, it really intrigues kids," she said.
Li Zhiqun, assistant general manager of the National Stadium, said visitor numbers have been beyond expectations.
"Although we expanded our site and extended our operations by opening sessions at night, we were still running far beyond our capacity during the first couple of days," he said.
"It's a sweet headache, really, so we have to further optimize the layout to allow more activities inside and to explore new spaces in the squares outside," he said.
Started in 2009 as one of the venue's post-Olympic projects, the carnival has attracted more than 1.4 million visitors. Some high-level competitions, such as the International Ski Federation Freestyle Skiing World Cup and the Air and Style Snowboarding Contest, have also been held at the venue almost every year.
The carnival is open from 10am until 9pm every day until Feb 26. Adult tickets cost 120 yuan ($17) at weekdays and 160 yuan on weekends, and this year, a preferential policy has been adopted that offers free entry for children age 12 and younger to encourage more youth participation.
Meanwhile, the first 10 children checking in every day will be given free skiing lessons on the artificial snow trails, guided by the former national cross-country skiing champion Xu Wenlong.
"Compared with bigger resorts in remote city suburbs, here we provide accessible training on people's doorsteps. It's an effective way to allow skiing to catch on with more people at the entry level," said Xu, who won multiple cross-country titles at the 12th National Winter Games in 2012.