'Golden crops' set to help county prosper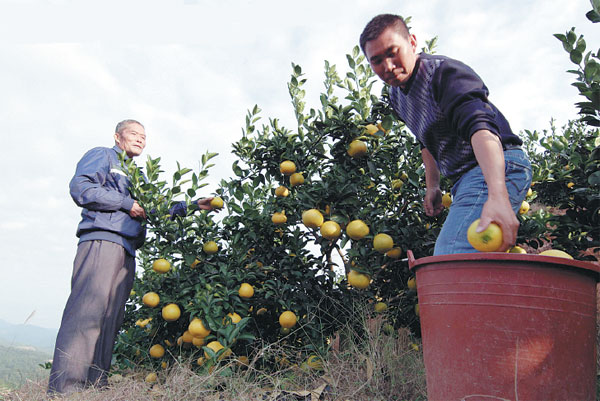 Fruit farmer Zhou Rensheng (left) and his son-in-law Zeng Bingyan pick tangelos at an orchard in a mountainous area of Junmenling township, Huichang county, in East China's Jiangxi province. Photos By Yuan Qingpan / China Daily
The cultivation of hybrid citrus fruits, such as tangelos, has helped to boost local incomes and raised living standards. Sun Xiaochen reports from Huichang, Jiangxi province.
Editor's note: This is the last in a series of special reports in which China Daily has focused on the government's efforts to eradicate poverty and raise living standards in the country's rural areas, especially among members of the nation's ethnic groups.
Located in the rugged, mountainous terrain of southern Jiangxi province in East China, Huichang county was once famous for its rich, verdant landscape, which was immortalized in a poem written by Chairman Mao Zedong in 1934 when the Red Army was based in the area.
More than eight decades later, the last remaining traces of the revolution are decaying, but the county has rejuvenated itself through a burgeoning business cultivating "golden" crops.
Boasting a mild, subtropical climate and relatively acidic soil, Huichang, which has a population of 520,000, mostly members of the Hakka ethnic group, has developed more than 16,000 hectares of hillside citrus orchards, mainly navel oranges and tangelos. These fruits, the county's major cash crops, have allowed many residents to escape the poverty trap.
Zhonggui village in Zhoutian, one of 19 rural townships in Huichang, lies at the heart of a 10,000 mu (approximately 666 hectares) farm where the locals grow tangelos, a hybrid of tangerine and pomelo or grapefruit that the Hakka people first crossbred in the early 1990s.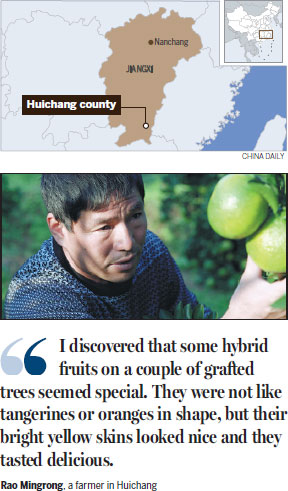 Overlooking the once-barren mountains that surround the village, the sight of numerous trees laden with clusters of ripe fruits earlier this month heralded a good harvest. The bustling scenes of farmers stacking empty boxes between rows of trees, and pickup trucks roaring along the muddy road midway up the hill also signified a busy fruit-picking season.
In the 1990s, the mountain village, which is home to 2,780 people, was impoverished as a result of a poor transport infrastructure that left roads impassable, outflows of labor and a lack of commercial crops. Almost half of the families lived below the poverty line, sustained only by the rice they grew on the limited amount of land available for grains.
"The citrus fruit business is significant because it has saved the village from poverty. Without these golden fruits, I can't imagine how miserable life could have become for the local people, who had no sources of income back then," said Wen Fanghua, deputy director of the Huichang Fruit Industry Administration.
Experiment
The shift to fruit cultivation happened after an experiment in a small orchard at the house of Rao Mingrong, a local farmer, in the late 1990s. Along with a few other villagers, Rao tried grafting grapefruit branches onto a couple of tangerine trees in his yard. To his delight, the crossbreeds bore a surprising fruit far sooner than he had expected.
"One day, I discovered that some hybrid fruits on a couple of grafted trees seemed special. They were not like tangerines or oranges in shape, but their bright yellow skins looked nice and they tasted delicious," he said.
Based on the first few high-quality hybrids and with help from village cadres and agronomists from Huazhong Agriculture University, Rao mastered grafting techniques and learned how to fertilize the trees and adjust the level of acidity in the soil.
He is now the biggest grower of tangelos in Huichang, and since 2011, he has inspired 386 impoverished households in the county to plant the fruit.
Ma Yuncai is one of the people Rao helped. The 58-year-old began cultivating the fruit in 2013 as a way of repaying heavy debts incurred by expensive medical treatments for his son, who is partially paralyzed by severe spondylitis.
"All the money the family had made and saved by planting rice was consumed by the medical bills. My life really was without hope," said Ma, whose skinny frame makes him look much older than his age.
In 2013, Ma's plight was noticed by the local government's poverty-alleviation campaigners, who offered him a one-time subsidy of 300 yuan ($43) per mu to buy pesticides and fertilizers.