Ex-sports chief gets 10 years for bribery, abuses of power
China's former vice-minister of sport has been sentenced to 10 and a half years in prison after he was convicted of bribery by a court in Henan province on Monday.
Xiao Tian, former deputy head of the State General Administration of Sport, was found by the Nanyang People's Intermediate Court to have taken bribes worth more than 7.96 million yuan ($1.15 million) between 1997 and 2014, the court said in an online statement.
Xiao was ordered to pay a fine of 500,000 yuan, and the bribes he took will also be recovered and turned over to the national treasury, the statement said.
The court found that Xiao abused his positions at the sports authority, including as chief of the winter sports administration center and head of the department of competitive sports, to provide assistance to individuals and units in contracting projects, hosting tournaments, job arrangement and promotions.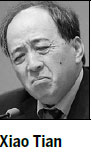 The court said it showed leniency in its verdict as Xiao confessed to his crimes, pleaded guilty and returned his illegal gains, the statement said.
Xiao was appointed as the country's deputy sports head in August 2005. He was a fencer from Anhui province before he started working for the sports authority in 1981.
He became head of winter sports in 1998 and led China to its historic gold medal at the Winter Olympics in Salt Lake City, the United States, in 2002.
He was elected vice-president of the Federation International Basketball Association, basketball's world governing body, in September 2014.
In June last year, he was placed under investigation for suspected "serious breaches of discipline and the law" by the Central Commission for Discipline Inspection, the top anti-graft watchdog.
He is the most senior official in the State-run sports system to be probed and convicted of corruption.
China has sought to eject corrupt officials from its sports establishment since July 2014, with the top anti-graft watchdog sending an inspection team to the sports authority amid its sweeping campaign against corruption.
xuwei@chinadaily.com.cn
(China Daily 12/27/2016 page4)