Premier Li avows firm adherence to "One Country, Two Systems"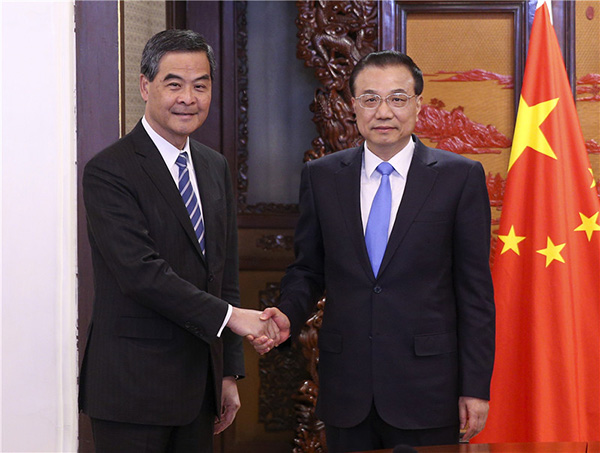 Premier Li Keqiang meets with Hong Kong Chief Executive Leung Chun-ying in Beijing on Friday. [Photo by LIU ZHEN / CHINA NEWS SERVICE]
The central government firmly adheres to the principle of "One Country, Two Systems" and supports the Hong Kong government and its chief to govern the city based on the Constitution and the Basic Law, Premier Li Keqiang told the city's chief Leung Chun-ying on Friday.
Premier Li positively evaluated the economic and social performance of the Hong Kong Special Administrative Region. He said the region's government has maintained economic growth and a low unemployment rate over the past year amid a complicated and changing world economy.
The city has been an international center for the financial industry, but is seeing fewer visitors from the mainland, who had boosted consumption and spurred the local economy.
The central government will continue to promulgate policies to support Hong Kong's development and strengthen communication and cooperation between the city and the mainland, Li said.
Li said he hopes the Hong Kong government will grasp opportunities generated by the Road and Belt Initiative and the 13th Five-Year Plan (2016-20) to raise its role in the country's economic development and opening-up.
Leung said Hong Kong will actively link with national strategies, especially the Road and Belt Initiative as well as the country's 13th Five-Year Plan (2016-20). Hong Kong will also boost efforts in innovation and entrepreneurship to maintain the city's prosperity and stability, Leung said.
Leung said earlier this month that he will not seek re-election next year, due to family reasons. This was his last work report to the central government as Hong Kong's chief.