Winners and losers
On Wednesday, Beijing and Shanghai, two of China's biggest cities, announced new rules on car-hailing services that will ban drivers without local hukou, also known as household registration, from working in the sector.
The move hasn't been universally popular: when the local governments put the proposals out for public consultation, 25 percent of respondents said unregistered residents should be allowed to work in the industry.
However, as super-sized conurbations with serious cases of "big city disease" - severe air pollution and a lack of housing and public services - Beijing and Shanghai have already set targets for population control and the upgrading of their industrial structures.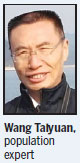 According to Wang Taiyuan, a professor of population management at the People's Public Security University of China, 1 million people with Beijing hukou are unable to find work in the capital.
"They should not be neglected," he said. "Most Chinese lack the opportunity to change careers."
If China eliminated the household registration system and allowed free settlement, the situation would become chaotic and large numbers of people would head to the biggest cities despite a lack of professional skills, he added. "If that happens, Beijing and Shanghai may become (overcrowded) like Dhaka or Mumbai, and 10 percent of China's land will not be suitable for development because it will be too crowded, while the remaining 90 percent will remain underdeveloped because nobody will want to live there."
Moreover, because Beijing and Shanghai plan to cap their populations by 2020, some of the measures employed to achieve the targets will unavoidably result in some people losing out, he said.