Man earns 3-year sentence for producing over 200 fake Disneyland tickets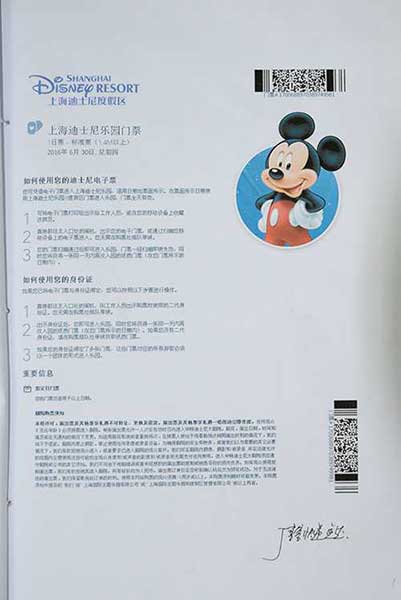 The fake Disneyland ticket.[Photo/People's Daily Online]
Zheng, the man who made and sold counterfeit Disneyland tickets, was punished with a prison sentence of three years and three months on Dec 22. He was also given a fine of 10,000 RMB, according to the ruling of a local people's court in Shanghai.
Noting the popularity of the Disneyland resort in Shanghai, Zheng, who was born in Guangdong province, tampered with the registered information of his sister's online shop, using illegal methods to advertise his fake ticket business. An online record from April showed hundreds of transactions.
Before his scheme was discovered by local police, Zheng sold over 200 fake tickets to 38 people. His tickets were priced at 499 RMB for adults and 375 RMB for children, allowing him to earn illegal income of 68,000 RMB.
Zheng pleaded guilty in court. He claimed that his motivation was to repay his credit card debt and collect money for his mortgage. Following relevant compensation procedures, the 38 victims of Zheng's scheme were compensated by the online shopping website through which they purchased the tickets. Zheng said he has already repaid the website.
Police reminded visitors that they should buy tickets only from the official site of the Disneyland resort.