'Insect man' hits it big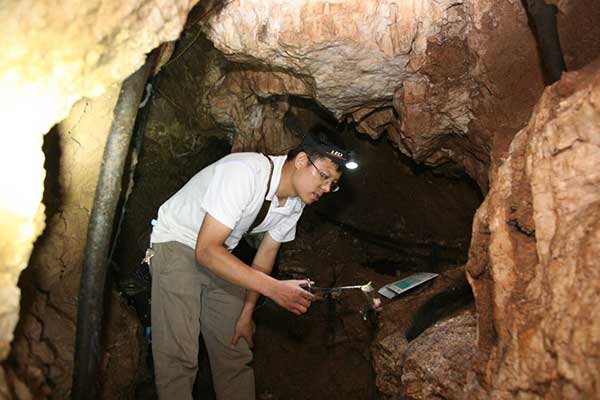 Tian Junhua collects insects during a field trip in Hubei province.[Photo provided to China Daily]
Scientist with love for bugs helped discover thousands of viruses
Tian Junhua has been studying insects ever since he was a little boy, but he never imagined that one day his name might appear in one of the world's top academic journals. Last month, renowned scientific journal Nature published an article entitled Redefining the Invertebrate RNA Virosphere, reporting the discovery of 1,445 viruses that use ribonucleic acid as their genetic material by the Chinese Center for Disease Control and Prevention.
Tian, from the Wuhan City CDCP in Hubei province, was one of the authors of the article. The 36-year-old, a researcher at the center's institute for disinfection and vector control, is also known by the nickname "insect man".
Born in the countryside near Jingmen, Hubei province, his childhood was mostly spent outdoors. "We didn't have extracurricular classes like children living in the city did," he said. "All of our games were based in the fields."
Playing alongside a river and in the fields every day, he would often catch all kinds of insects and creepy-crawlies-gradually developing a skill for it. In the summer, he said he could easily catch 10 kilograms of freshwater prawns every day. "When I was a child, I liked watching and catching all kinds of animals, especially bugs," he said.
In 2000, Tian enrolled at Huazhong Agricultural University to study insect taxonomy. Few students choose to specialize in this branch of biology concerned with classification, Tian said, as it is difficult to get funding and make scientific breakthroughs.
But he studied enthusiastically and had confidence in his chosen profession. After graduating in 2004, Tian began working for the disease control and prevention center, where he monitored, identified and classified pests and disease carriers such as mosquitoes, mice and cockroaches.
Five years later, he had caught thousands of rodents in the surrounding fields and mountains, and knew every species distributed around Wuhan. He can now judge at a glance whether an area is likely to contain mice and his work has provided ample research samples to be used for disease prevention and control. By Tian's own estimate, he has collected almost 1 million insect and animal samples over the past 12 years.
But collecting can be dangerous. Once, while catching wasps with a net on Mount Jiufeng, Hubei province, he was attacked by the insects. They badly stung his left cheek, which remained swollen for two weeks. "The wasp is very powerful and aggressive and can even sting through a thick bag filled with ice," he said. "It was truly scary."
After a spate of tick-borne diseases hit Henan and Shandong provinces in 2009, Tian was sent by the CDCP to investigate as part of a research group. He worked for more than 20 days straight, collecting samples. Over the following four years he and his colleagues collected about 120,000 ticks, which provided material to help with the clinical diagnosis of tick bites.
It was during this period that Tian discovered a previously unknown virus in his hometown, which was named "Jingmen virus" after it.
Tian's dedication to his work means that he often spends long hours in the laboratory, away from his son.
In fact, if the boy needs his homework checked he takes a picture of it on his mobile phone and sends it to his father via WeChat. Whenever the two are together, however, they like to go out and catch insects, Tian said.
Chen Liang contributed to this story.