Philippines arms deal cements ties
China's offer of arms and boats worth $14 million to be provided free to the Philippines, according to media reports, is the latest sign that the two countries are boosting cooperation following Philippine President Rodrigo Duterte's visit to China in October, experts said.
Philippine Defense Minister Delfin Lorenzana said on Tuesday that Beijing has offered to provide the small arms and fast boats to Manila to assist Duterte's fight against drugs and terrorism, Reuters reported.
Another $500 million in a long-term soft loan will be available for other equipment, the report said.
Lorenzana was quoted as saying they hope to receive the Chinese arms by the second quarter of 2017.
Foreign Ministry spokeswoman Hua Chunying said on Wednesday that China understands and supports the Duterte government's policy of cracking down on drug crimes.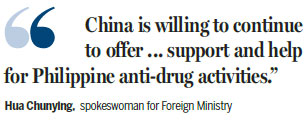 "The two countries' related departments are currently undertaking cooperation in areas such as information sharing, technical equipment, joint drug enforcement and drug rehabilitation," Hua told a daily news conference, without confirming the media reports. "China is willing to continue to offer, within its capability, support and help for Philippine anti-drug activities."
The United States has been a longtime provider of secondhand weaponry to the Philippines. But Reuters reported that Washington halted the sale of 26,000 assault rifles to the Philippines over opposition to aspects of the anti-drug campaign initiated by Duterte after he took office on June 30.
After the sale of weapons was halted by the US, Duterte said he might turn to China and Russia for arms.
Li Jinming, a professor of Southeast Asian studies at Xiamen University, said the offer is the latest practical act since the overall improvement in bilateral ties.
"It not only shows Beijing's support for Duterte's anti-drug activities, but also its willingness to put the repaired relationship on a good path," he said.
The China-Philippine relationship hit turbulence after the previous Philippine government, under Duterte predecessor Benigno Aquino III, launched a unilateral arbitration case against Beijing to challenge its sovereignty over the South China Sea.
Chen Qinghong, a researcher in Southeast Asian and Philippine studies at the China Institutes of Contemporary International Research, said the two countries have continued to expand cooperation.
"To boost comprehensive and robust cooperation in various areas, including security and military affairs, will help to enhance mutual trust and positive interaction in the future," he said.
mojingxi@chinadaily.com.cn
(China Daily 12/22/2016 page3)