Investment helps 10 million people rise from poverty
Government spends 100 billion yuan this year, registers poor households for living allowances
China has lifted more than 10 million rural residents out of poverty this year with a record-breaking investment of 100 billion yuan ($14.4 billion) in government funds, and it plans to pull another 10 million people out of poverty next year.
That goal was announced on Tuesday by Liu Yongfu, director of the State Council Leading Group Office of Poverty Alleviation and Development, at the office's annual national meeting.
By the end of 2015, China still had more than 55 million people living below the national poverty line of 2,800 yuan per person per year, or income of less than 8 yuan a day, according to the office.
President Xi Jinping said during the G20 Leaders Summit in Hangzhou in September that the Chinese government will lift the entire nation out of poverty by 2020.
This year, the central government allocated 66.7 billion yuan to tackle poverty, a 43.4 percent increase compared with last year. Local governments together designated more than 40 billion yuan for the same purpose, up more than 50 percent compared with 2015, Liu said.
Unlike the previous practice of most special funds being spent by higher-level governments, these funds have filtered down to the grassroots level. More than 95 percent of funding is directly accessible by county governments, up from last year's 75 percent, Liu said.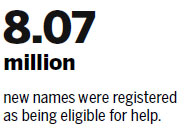 The government has organized 2 million people to check the status of every poor household registered nationwide to make sure that each person in need can get help - a key idea behind the ongoing anti-poverty campaign. As a result, they removed 9.29 million names of those who are not really poor, while adding the names of 8.07 million others who were previously not registered, according to the office.
By 2015, there were 1,521 counties where villagers were unable to qualify for a basic living allowance even if they earned less than 2,800 yuan per year.
This year, that number dropped to 887, after the central government issued a circular requiring that every rural resident under the national poverty line have access to a basic living allowance, Liu said.
Earlier this year, 51 central government-owned enterprises jointly established an industrial investment fund of 12.2 billion yuan to boost business in poor regions. That fund is expected to expand to 100 billion yuan in the near future.
Meanwhile, a total of 21,992 private companies have pledged to help 21,251 registered poor villages. Among them, property developers made significant commitments. The Evergrande Group has set up a fund of 1 billion yuan to help Guizhou province's Dafang county, while Wanda Group plans to invest another 1.4 billion yuan in the province's Danzhai county, according to the office.
chenmengwei@chinadaily.com.cn