Xinjiang becomes playground for 30 million winter visitors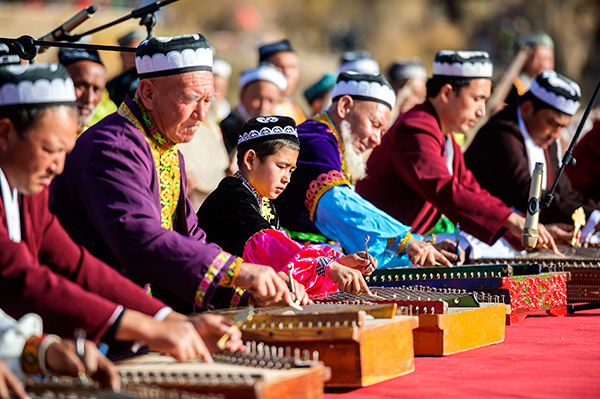 Musicians play an ancient Uygur instrument in Kashgar prefecture. JIN WEI/CHINA DAILY
More than 30 million tourists are expected in the Xinjiang Uygur autonomous region this winter, between November and April, officials predict.
The winter visitors, drawn to the region's snow-capped scenery and diverse cultural attractions, are expected to spend about 18 billion yuan ($2.6 billion).
Winter is becoming a popular time to visit Xinjiang, which borders Russia, Kazakhstan, Afghanistan and other countries. The season can last for five months or more, according to Gul Ablim, deputy director of the region's tourism administration.
"The length of the season supports a lot of ski resorts in the valleys of the Tianshan Mountains' northern slopes.
"In addition, winter in Xinjiang is milder than that in Northeast China, which means it's suited to a wider range of ages and different physical conditions," she said.
Chen Hongjin, general manager of the domestic trip department at leading Chinese online travel agency lvmama.com, recommended winter tourists visit resorts like Tianchi Lake near the Tianshan Mountains and Kanas Lake in northern Xinjiang's Altay prefecture.
In addition to Xinjiang's geographic and climatic advantages, Chen said its deserts, ancient Silk Road relics and the mix of ethnic groups such as Uygur, Hui and Kazak add to its attractions.