Night at the bookshop: 10 bookstores invite tourists for sleepovers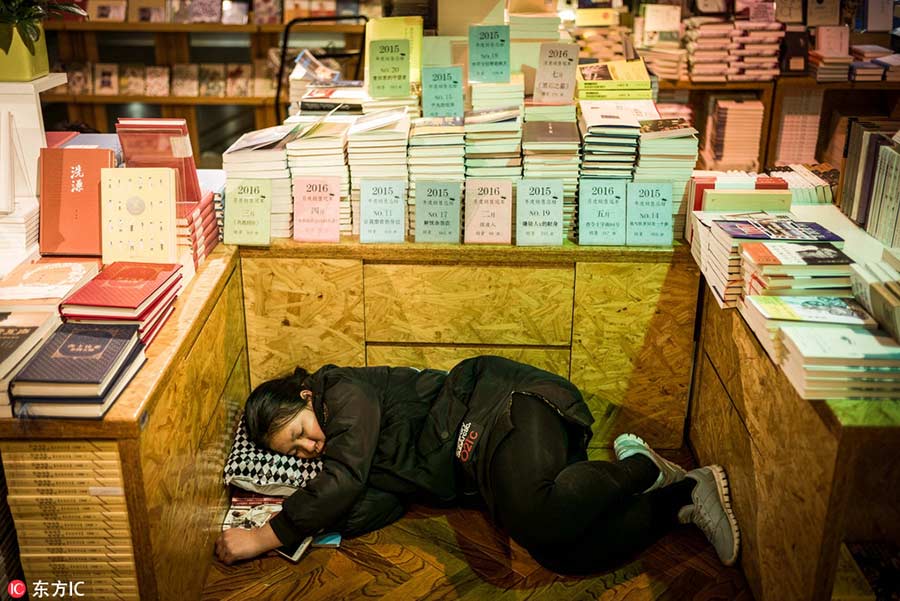 A woman sleeps at a 24-hour bookstore in Hefei, Anhui province, Dec 9, 2016. [Photo/IC]
Ever dreamed of spending a night surrounded by piles of books and picking them off the shelves?
Since January this year, 10 bookstores in China have been inviting tourists for a sleepover, a project entitled "The Light of the City", aiming not only to bring benefits to bookstores, but also to quench the thirst of avid readers.
One sleepover could costs anywhere from 80 to 600 yuan ($11.5 to $86.8), depending on the service that the bookshop provides. Biancheng Bookstore in Yangzhou, East China's Jiangsu province, earns 10,000 yuan per month in rent alone.
In a 24-hour bookstore in Hefei, East China's Anhui province, a sleepover starts from 10 pm to 7 am. Tents, rugs, and as well as blankets are offered, and one night stay costs about 50 to 70 yuan.
Bi Shengsi, deputy manager of Sanxiaokou brank of Xinhua Bookstore in Hefei, said although the "bookstore sleepover" is a new concept it's becoming a top choice for low-budget tourists who are visiting the city for the first time.
A reporter from icpress.cn found 100 people spending the night in a 24-hour bookstore in Hefei. The majority were bookworms who only doze for a while after reading and leave in the morning. The journalist also spotted some homeless taking shelter at the shop.