Military cooperation with Manila seen as mutual trust builder
Cooperation between Beijing and Manila in the defense and security field, if realized, would further develop the relationship as well as boost mutual trust, Chinese observers said.
Philippine President Rodrigo Duterte said on Sunday that he had decided to accept an arms deal offered by China.
Duterte said he has directed Philippine Defense Secretary Delfin Lorenzana to send a general to formally receive the guns from Beijing, which were offered through what Duterte described as "a grant payable in 25 years", according to the Philippine news site Inquirer.net.
However, the Philippine Department of National Defense said on Monday that the deal has no timeline yet for when details will be finalized.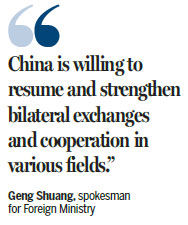 Foreign Ministry spokesman Geng Shuang told a regular news conference on Monday that China had noticed the reports.
"As the (China-Philippines) relationship improves, China is willing to resume and strengthen bilateral exchanges and cooperation in various fields," he said, without confirming the deal.
Duterte's visit to China in October marked the overall improvement of bilateral ties, which were soured by his predecessor Benigno Aquino III, who unilaterally launched an arbitration case against China in a dispute over the South China Sea.
During the visit, the two countries agreed to focus on cooperation and to solve their disputes through direct talks.
Zhu Feng, executive director of the China Center for Collaborative Studies of the South China Sea at Nanjing University, said the arms deal shows Beijing-Manila ties are developing in a comprehensive way, and cooperation in defense and security is an important reflection of a bilateral relationship.
"The specifics of the deal do not matter, and if the two countries could really make some progress in this field, it will have decisive significance to peacefully solving their disputes over the South China Sea," he said.
Chen Qinghong, a researcher of Southeast Asian and Philippine studies at the China Institutes of Contemporary International Relations, said military cooperation will help the two countries further improve ties and enhance mutual trust.
"It will, therefore, create a good environment for future negotiations over the South China Sea issue," he said.
Contact the writer at mojingxi@chinadaily.com.cn