Incident with Japan triggers concern
China is gravely concerned about Japan's interference with Chinese Air Force planes passing through Miyako Strait, China's Defense Ministry said.
It was the second major confrontation between the two countries' air forces this year.
The first confrontation came in mid-June, when Japanese fighter jets used fire-control radar to target Chinese military planes in the East China Sea, the ministry said in a statement in July.
On Saturday, two Japanese F-15 fighter jets closely harassed and shot decoy flares at Chinese Air Force planes that were passing through Miyako Strait to conduct an exercise in the western Pacific Ocean, Defense Ministry spokesman Yang Yujun said in a news release on Saturday.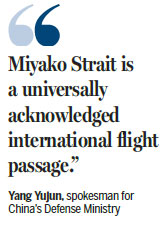 "China's exercise has been planned within this year's Air Force training routine and does not target any specific country or objective," said Yang, who called Japan's reaction "dangerous and unprofessional".
"Miyako Strait is a universally acknowledged international flight passage," Yang said. The Chinese Air Force has adhered to international law and practices while passing through the strait, he added.
China urged Japan to take effective measures to prevent security issues and to keep regional security and the big picture of Sino-Japanese relations in mind, Yang said.
Japan's Defense Ministry acknowledged in a statement that it had scrambled jets to intercept Chinese planes, but it denied harassing or firing decoy flares.
The Miyako Strait is one of the few international waterways through which ships and aircraft can pass from the East China Sea to the western Pacific. Chinese Air Force planes first flew through the strait in May last year.
Liang Fang, a professor at People's Liberation Army National Defense University, said Japan's denial of interference is hypocritical, because it has stepped up harassment of the Chinese military since 2009, when a Chinese naval fleet passed through the Miyako Strait to train in the western Pacific.
zhangzhihao@chinadaily.com.cn