China's accession to WTO 'most significant': senior WTO official
The World Trade Organization in Geneva believes China's accession to the body in December 2001 is one of the most significant economic events in modern world history, mainly because of the win-win outcomes the entry has brought during past 15 years.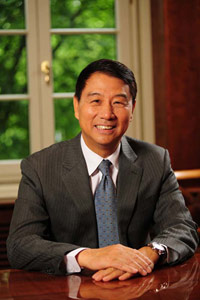 Yi Xiaozhun, the deputy Director-General of WTO, said on Friday that China's accession to the multilatiral system in December 2001 has proven to be one of the most significant economic events in modern world history. [Photo provided by WTO]
Yi Xiaozhun, the deputy Director-General of the WTO made the comments in an exclusive interview with China Daily on Friday ahead of the expiry of the 15-year transition period of China's entry on December 11.
"China's historic accession has made both China and the WTO stronger and more vibrant," said Yi in a written interview with China Daily.
China maintains that under the terms of its WTO accession, it should be given market economy status, a view backed up by over 100 countries, including the UK.
The United States, Japan and Canada still refuse to treat China as a market economy because of outstanding anti-dumping cases, even though they agreed to commit to MES recognition when China entered into WTO.
The European Union, which needs all 28 member states to agree to recognize China's MES status, is split, and so has proposed reforming its trade defense regulations by introducing a "market distortion" concept, which China says is not in accordance with WTO practices.
Yi said China has made "deep and broad commitments" in its accession while even accelerating major steps in liberalizing trade before accession to the WTO, citing the most-favored-nation tariffs in China which were gradually reduced from 45 percent in 1992 to 15 percent in 2001. And in 2015, the average of MFN tariff was cut down to 9.5 percent.
Yi also said China's trade-weighted average tariff is now as low as 4.5 percent and in the area services, China has opened more than 100 services sub-sectors such as finance, insurance, legal service, telecom, distribution and courier logistics.
"On top of its trade liberalizing efforts, China overhauled some 3,000 laws and regulations at the central government level, and many more at local level, in order to bring China's legal system into compliance with WTO standards," said Yi.
Yi said during previous 15 years, both China and the world have seen trade flows rise dramatically, with China experiencing a more than 6-fold increase in the volume of its merchandise exports and a nearly 5-fold increase in the volume of its imports. Meanwhile, the volume of world trade has nearly doubled.
"For all the attention given to China's rise as an export powerhouse, commentators have focused less on the question of China's imports," said Yi.
From $243 billion in 2001, imports into China leapt to $1.96 trillion last year, he said. "This is a significant contribution to the world economy, which is too often overlooked," said Yi.
In this regard, citing International Monetary Fund and World Bank reports, Yi said that China has been one of the leading contributors to world growth in the past few years.