China, US improve cooperation in cybersecurity
Chinese and US officials meeting in Washington on Wednesday, the first day of a two-day bilateral cybersecurity dialogue, agreed to expand their collaboration, according to Chinese officials.
Chinese State Councilor and Minister of Public Security Guo Shengkun joined US Attorney General Loretta Lynch and Secretary of Homeland Security Jeh Johnson in co-chairing the third China-US High-Level Joint Dialogue on Cybercrime and Related Issues.
The two sides also agreed to crack down on cybercrimes and improve their hotline mechanism, as well as their cyber counterterrorism cooperation and information sharing, according to the Chinese delegation.
Guo said in the meeting that China and the United States established the high-level dialogue mechanism based on discussions between President Xi Jinping and US President Barack Obama in September 2015, according to a Chinese delegation news release.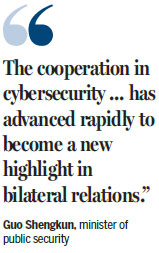 "With the high level of attention and encouragement by the two heads of state, the cooperation in cybersecurity between China and the US has advanced rapidly to become a new highlight in bilateral relations," Guo said at the meeting.
Guo said they have achieved notable progress in areas such as cracking down on cybercrime, protecting cybersecurity and sharing information. "It has made a positive contribution to ensuring the national security and the safety of the people in both countries," he said.
Guo also emphasized the importance of focusing on cooperation, managing and controlling differences, and timely and effective responses to each other's concerns as well as the need to achieve no-conflict, no-confrontation, mutual respect and win-win cooperation.
"The Chinese side is willing to make continued efforts with the current US government team and the next government team to take bilateral cooperation in cybersecurity to a new high and to make a contribution to the building of a new type of major country relationship," Guo said.
An official from the Chinese delegation, who asked not to be identified, said US officials also agree that without such a dialogue mechanism, China and the US could still face confrontation and conflict in cybersecurity, as things stood over a year ago.
In the past year, China has asked the US for assistance in investigating 10 cybercrime cases while the US has made requests in nine cases.
The official also praised the hotline mechanism for helping reduce miscalculation.
Both Lynch and Johnson said that the two countries have a shared interest in cracking down on cybercrimes and protecting cybersecurity, according to the release.
They said they hoped that the mechanism could be further developed and more practical cooperation carried out in cracking down on criminal activities such as cyber terrorism and email scams. They also said they wanted to manage differences constructively to ensure more concrete achievements in US-China cooperation in cybersecurity.
Both sides agreed to hold the fourth round of dialogue in China in 2017.