Anti-graft net recovers assets, too
Official says return of ill-gotten gains is just as important as bringing back economic fugitives
While China is seeing an increasing number of fugitives suspected of corruption being returned from overseas, thanks to international cooperation, the country is also beefing up efforts to recover their ill-gotten assets.
Between January 2014 and November this year, 2,442 Chinese fugitives suspected of economic crimes, including 397 officials, were brought back from more than 70 countries and regions, according to the Communist Party of China's Central Commission for Discipline Inspection, the country's top anti-graft watchdog.
In the same period, 8.54 billion yuan ($1.24 billion) in illegal assets was recovered, according to the CCDI.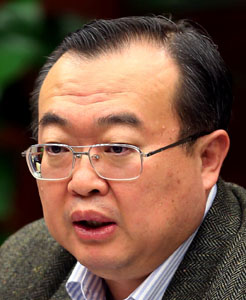 Liu Jianchao, director of the CCDI's International Cooperation Bureau
"Getting these illicit assets is just as important as bringing the fugitives back," Liu Jianchao, director of the CCDI's International Cooperation Bureau, said in an interview ahead of this year's International Anti-Corruption Day, which falls on Friday.
"Hunting the fugitives is to make them face judicial punishment. Recovering the money is to stop them from enjoying the dividend of escape and to minimize the loss to the country and the people," Liu said.
He acknowledged that China faces some challenges in recovering the illicit assets, such as the lack of a clear understanding of outflow channels and insufficient international agreements for such recovery.
He said that China will enhance intelligence sharing with other countries and try to offer them as much evidence as possible, including the channels of outflow for and whereabouts of the assets, in requesting judicial assistance and to help investigators.
So far, China has signed bilateral agreements with financial institutions in 42 countries and regions, including the United States, Australia and New Zealand, on the exchange of financial information, according to People's Bank of China, the central bank.
China also intends to begin negotiations with more Western countries, such as the US and France, for bilateral treaties on sharing the assets that corrupt Chinese fugitives have sent overseas, according to the Ministry of Foreign Affairs. In October, China signed the first such treaty with Canada.
Jiang Laiyong, an anti-graft researcher at the Chinese Academy of Social Sciences, said that some stipulations in existing international agreements on asset recovery are too abstract to be implemented.
In addition, many international financial institutions are led by developed countries, "which places developing countries at a disadvantage in negotiations," he said.
Jiang suggested that developing countries like China make better use of international platforms and meetings, such as APEC and G20, to voice their stance and policies to gain wider support.
China launched a massive anti-corruption campaign in late 2012, shortly after the new leadership was elected.
To capture economic fugitives hiding abroad, the country has set up the Central Anti-Corruption Coordination Group, led by the CCDI, and launched the Skynet program to capture corrupt officials who fled abroad.
Liu said that in recent years, the number of newly added economic crimes fugitives has fallen. "Fewer people are trying to escape overseas," he said.
He attributed the decline to the tightened management of officials' passports, measures taken to prevent suspects from leaving the country and the success in bringing back fugitives from overseas, which serves as a deterrence.
Fact box
Channels for recovering ill-gotten assets include:
1. When China brings back fugitives, their assets are returned by foreign countries at the same time.
2. At China's request, some countries freeze or confiscate ill-gotten assets. Countries also may give the assets back to China at a later date, request to share them with China, or not return them.
3. Some assets are recovered through lawsuits in other countries.