2 astronauts describe food and fun on 33-day journey, say time flew by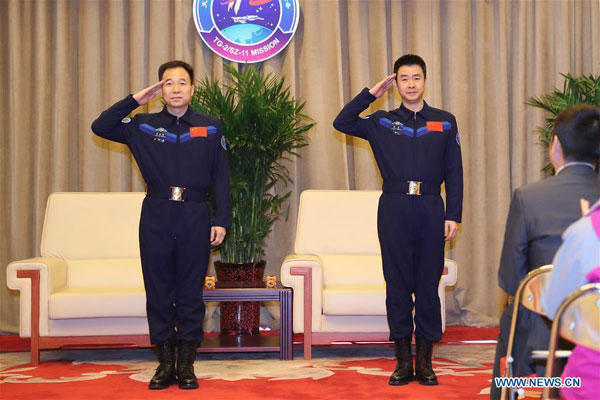 The two astronauts Jing Haipeng (L) and Chen Dong who manned China's Shenzhou-11 mission meet the press following almost three weeks in quarantine in Beijing, capital of China, Dec 7, 2016. [Photo/Xinhua]
"Though our schedules were tight, we very much enjoyed the work and life in space," Jing said. "We watched TV programs or listened to music while having dinner. We tossed food toward each other and saw it float in the air, and we just opened our mouth to wait for it."
Chen said they had contests to see who could perform the most somersaults in the weightless Tiangong II.
"There were a lot of things in the mission that I will never forget. I observed the sprouting of seeds and watched silkworms spin a cocoon. I was often shocked by the magnificence of the universe when I looked out the windows," he recalled.
Huang Weifen, deputy research head of the Astronaut Center of China, said Jing and Chen are in good health and will finish a three-week medical quarantine on Friday.