Anger over killing of 'king of fish' in Guangxi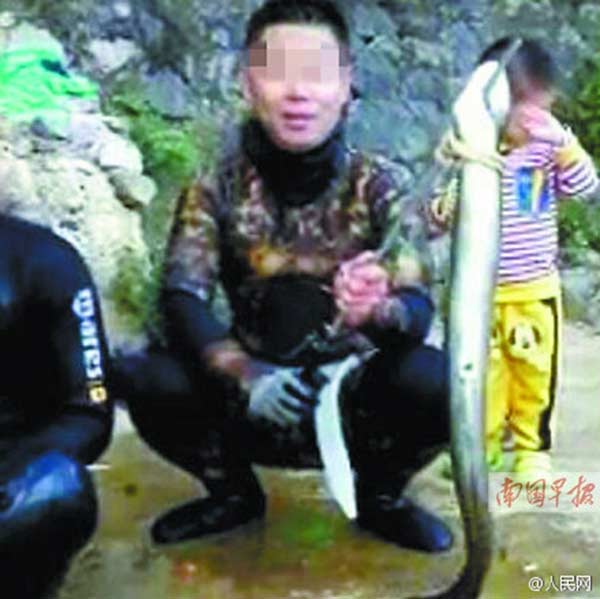 A photo emerged online of a man holding the eel on a large rod. [Photo/Sina Weibo]
The killing of a marbled eel, considered the "king of fish", in the Lingwan Lake of Nanning, capital city of Guangxi Zhuang autonomous region, has generated anger.
A local diving fan surnamed Liu said that Lingwan Lake, a diving resort, has clear water and plenty of fish live there, including the large marbled eel, the local news portal southcn.com reported.
Diving fans first spotted the eel about seven years ago, and they considered seeing the one-meter-long fish lucky whenever they went under water, Liu said.
But then a photo emerged online of a man holding the eel on a large rod. On Nov 23, the man in the photo denied killing the fish, claiming it was killed by a diver on Nov 20.
He said he only took the photo with the eel as he was curious about it, adding that he regretted the killing.
A video showing a man catching a big fish was also posted online, and it looks similar to the eel.
Nanning forest police and fishery administration have launched an investigation.
The marbled eel, which can grow from about 33.1 cm to 61.5 cm, is a second-class national-level protected animal in the country.