IT firm's ex-boss jailed for insider trading
A former CEO of the Chinese technology conglomerate Founder Group was sentenced to four and a half years in prison and fined 750 million yuan ($108 million) on Friday by a court in Liaoning province.
Li You was found guilty of insider trading, obstructing police in their duties and hiding accounting documents, the Dalian Intermediate People's Court said in an announcement published on its website.
As an insider, Li made stock trades before the release of major corporate information that would affect stock prices, the court found.
The sentencing "mitigated the punishment, in accordance with the law, because Li turned himself in, made confessions and felt repentant for his crimes", the court said.
Some of the 11 other defendants in the case also received prison sentences and were fined.
All of the defendants said they accepted the ruling and would not appeal, according to the court.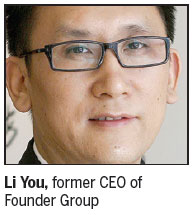 The Beijing-based Founder was established in 1986 with investment from Peking University and has expanded into IT, healthcare, real estate, finance and commodities trading.
In January last year, it revealed that three of its senior executives - former board chairman Wei Xin, CEO Li You, and president Yu Li - were under investigation.
Before that, Beijing Zenith Holdings Co Ltd released several announcements, questioning whether Founder senior executives had engaged in insider dealing and damaging State-owned assets.
The trial was heard at the Dalian Intermediate People's Court on Nov 15, and all 12 defendants appeared in court with their lawyers.
In their final statements in the court, Li You and the other defendants pleaded guilty and expressed remorse for their crimes.
zhangxiaomin@chinadaily.com.cn
(China Daily 11/26/2016 page3)