Ex-official pleads guilty to bribery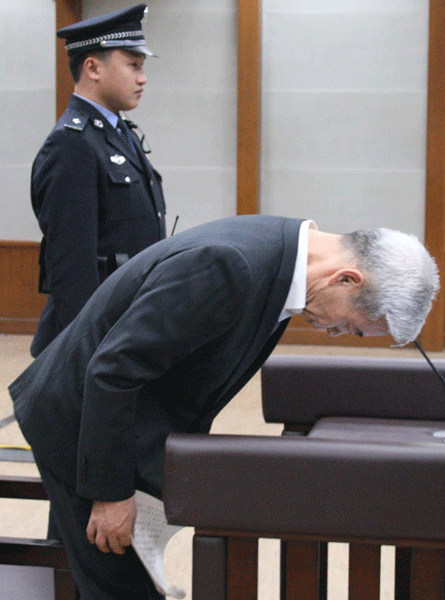 Yang Dongliang, former head of the State Administration of Work Safety, bows in apology at court on Nov 24, 2016. [Photo/Xinhua]
Yang Dongliang, former head of the State Administration of Work Safety, pleaded guilty to accepting bribes and embezzling public funds at Beijing Second Intermediate People's Court on Thursday.
Yang was indicted on a charge of allegedly accepting bribes worth more than 28 million yuan ($4 million).
The prosecution alleged that Yang took advantage of his various posts from 2002 to 2015, such as vice-mayor of Tianjin and head of the State Administration of Work Safety, to seek benefits for others and accepted bribes.
In 1999, Yang accepted an apartment on Xinjiang road in Tianjin's Heping district worth 270,800 yuan bought with public funds, according to the indictment.
Yang expressed regret for his actions and bowed in the courtroom. He and his lawyer made their defense before Yang gave a final statement.
The ruling will be announced at a later date.
Yang, born in Qing county, Hebei province, in 1954, began his working career in 1972 and joined the Communist Party of China a year later. He holds a doctor's degree in law.
More than 50 people attended the court hearing.