Book on Tokyo trial comes into focus at Romanian fair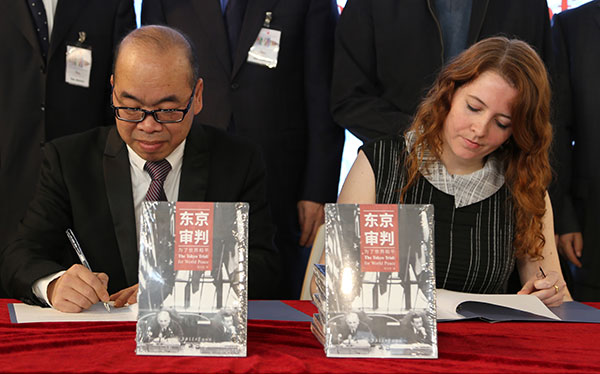 The signing ceremony for transferring the English rights of the book in Romania took place at the book festival.[Photo/Xinhua]
A book providing a comprehensive picture of the International Military Tribunal for the Far East in Tokyo was in focus on Thursday during the Gaudeamus book fair.
The Tokyo Trial is a story of war criminals tried after World War II. The signing ceremony for transferring the English rights of the book in Romania took place at the book festival.
"The Tokyo trial had an impact upon the Japanese political trend and this book fills a vacuum, attracts attention and generates enthusiasm," said Jiang Yaopeng, representative of Shanghai Jiao Tong University Press, which initiated the project.
"The book has opened the path for other publishing houses to initiate their editorial projects on the same topic," Jiang added.
Xiang Longwan is the honorary director of the Tokyo trial research center in Shanghai, which was set up in 2011.
He believes it's important to have foreign books translated into Chinese to enable the Chinese to know the opinions of foreign experts about what happened.
"Even many Chinese do not know about the Tokyo trial. Gradually, in 10 years, we picked files, trial proceedings, documents and did research, to make them available first to the Chinese, then to the world."
Romulus Ioan Budura, former Romanian ambassador to China, said: "I am glad the Chinese are disseminating this crucial book across the world because history should teach us not to make more mistakes."
Sara Crowley-Vigneau, senior commissioning editor from Palgrave Macmillan, partner publisher of Shanghai Jiao Tong University Press, expressed her delight to have this book disseminated in Romania.
"As a publisher, we were very keen to ensure that Chinese research, and research from Asia in general, becomes part of the international global scholarly debate," she said.
It's been 70 years since the beginning of the Tokyo trial, the equivalent of the Nuremberg trial in Asia, which brought to court crimes against humanity, and significantly contributed to the development of international law.
The five-day Gaudeamus International Book Fair, now in its 23rd year, kicked off on Wednesday in Bucharest, featuring China as guest of honor.