Co-working space sector set to boom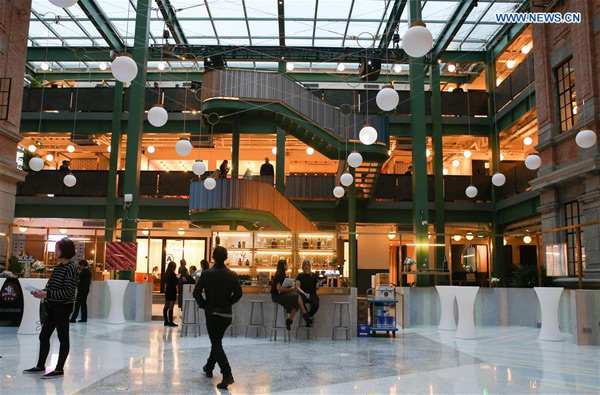 The flagship working space of co-working company WeWork in Shanghai at a renovated hundred-year-old UK-style building. [Photo/Xinhua]
Freelancers and small and medium-sized companies that yearn for better working environments can increasingly avail themselves of a new option, co-working spaces.
With the rise of millennials in the workforce and the government's supportive policies such as the so-called mass entrepreneurship innovation, the co-working space sector is booming, along with much of China's emerging sharing economy.
According to an annual report released by the National Development and Reform Commission, more than 5.5 million new companies were registered last year, growing 24.5 percent year-on-year.
By the end of 2016, the country had nearly 26 million registered enterprises, up 18.8 percent year-on-year. And the report noted that 41.7 percent of the entrepreneurs are young people, especially millennials.
Seeing the huge potential in innovating away from traditional working offices, Hu Jing, the former executive vice-president of Chinese property developer Greenland Holding Group Co Ltd, established his co-working startup Distrii, to offer co-working spaces, coupled with online mobile office solutions.
"As more cities in China become highly developed and business concentrated, traffic congestion, air pollution and other city diseases pop up now, and the cost of commuting also has increased. All those problems are the real pain points for cities and will also reduce people's work efficiency," said Hu, now CEO of Distrii.
Hu aims to build a community that allows employees to set up workplaces in the nearest co-working offices, instead of traveling for hours to a far-away office.
"Advances in technologies will enable us to live in the flexible, mobile, productive and convenient working environment, marking a key point to the smarter future.
"Co-workers are able to deal with company tasks online via our mobile office solutions and communicate with other company employees in the working building to expand their social circles," he said.
According to statistics on the official website, more than 450 companies have registered to use properties offered by the Shanghai-based co-working space operator.
Currently, Distrii has set up 15,000 working spaces in four cities, Beijing, Shanghai, Hangzhou, and Singapore. The company said it would unveil its flagship franchise in Singapore next April.
In September, the company announced it had raised 200 million yuan in series A financing to further expand its light-asset office network and start to tap into overseas markets in the Asia-Pacific, Southeast Asia and North America regions.
"Our co-working mode is more than simply renting working offices. We aim to connect people with the facilities via the internet, making them into part of the smart city plan," Hu added.
Once users sign up to use the co-working building, they can simply use smartphones to unlock the office door and check in automatically via the internet. And the serviced offices will offer more functions, including tele-conferencing and video-conferencing.
"Currently, we especially target small and medium-sized companies, which account for around 70 percent of the total domestic firms, aiming to help them reduce the costs on operation and IT spending."
A report released by consultancy iResearch showed that there is huge potential in China's co-working industry. According to the report, the domestic market in China reached 4.29 billion yuan ($650 million) in 2016, and the number is expected to hit 9.35 billion yuan by 2019.
Feng Chao, an analyst at internet research company Analysys, noted that co-working companies need to offer favorable prices and comfortable working environments to accumulate enough users.
"The key is to introduce more value-added services," Feng said. "It should be more than simply providing renting offices and should involve more needed services, such as training and a community network."