Star rises for mighty southern metropolis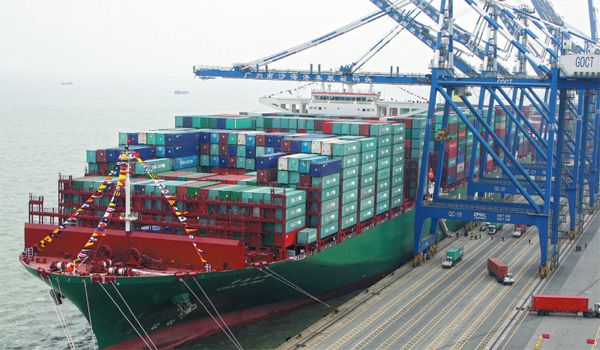 CSCL Globe, one of the world's biggest container ships, docks at Guangzhou Port's Nansha area, taking the port's handling capacity to a new level. [Photo by Fu Chaojun/For China Daily]
The GDP of Guangzhou, capital of Guangdong province, is expected to overtake Hong Kong's next year, according to one leading expert.
The city's economic strength has taken it to the forefront of a great rejuvenation of the Chinese nation. That's according to Peng Peng, vice-chairman of the experts committee at the Guangdong-based South Nongovernmental Think Tank.
Known as an important trading center in China, Guangzhou has a spirit of inclusiveness, innovation and opening-up, which promotes fast but steady economic growth.
Among the Fortune Global 500 companies, about half have opened branches or offices in Guangzhou, enhancing the city's links with developed countries.
"Through its frequent exchanges with Western countries in business and culture, Guangzhou has introduced many advanced ideas and technologies," Peng said.
"It has created a climate conducive to trade and a mature market that can adapt to international principles well."
Located near the South China Sea and in southern China, Guangzhou has a history stretching back more than 2,200 years.
The city established close links with a growing number of countries, gradually forming into the earliest Maritime Silk Road.
The road helped boost communications between China and countries including India, Malaysia and Sri Lanka.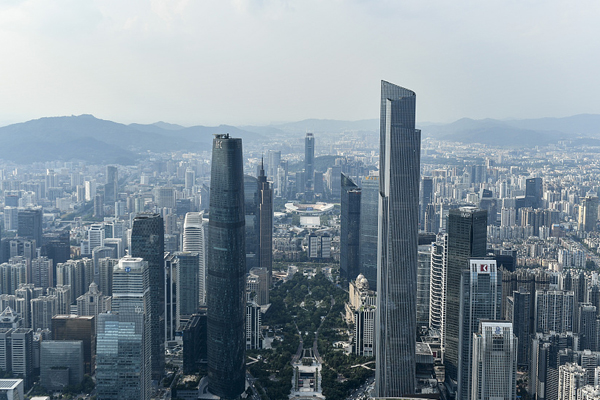 International Financial Center and East Tower in Wuyang New Town, Guangzhou, capital of Guangdong province. [Photo/VCG]
Guangzhou Port has rich resources and a mature infrastructure and distribution system. This has promoted the development of an international shipping center which is contributing greatly to the Belt and Road Initiative.
"Guangdong was one of the earliest participants in China's opening-up to the outside world," said Long Guoqiang, deputy director of the Development Research Center of the State Council.
"It has played an important part in the country in terms of global trade, attracting foreign investment."
The city's pioneering role in the reform and opening-up process also helped make the province the most economically developed province in China, Long said.
The city's diverse population-including Chinese from abroad, as well as residents from Africa, Southeast Asia and the Middle East-is also an important resource for the city, according to Peng.
Ranked No 3 among the top three first-tier Chinese cities after Beijing and Shanghai in terms of economic aggregates, Guangzhou has played a unique role, he added.
Pillar industries are key to its economic strength. These include automobile manufacturing, chemicals, machinery, and the emerging IAB industries: information technology, artificial intelligence and biopharmaceuticals.
The China units of the top three Japanese vehicle brands-Toyota, Honda and Nissan-have all settled in Guangzhou.
China's own auto brands, such as GAC Group, are also flourishing there.
Popular social media platform WeChat has established its headquarters in Guangzhou. Domestic voice recognition giant Iflytek has built its southern headquarters there.
Local biopharmaceutical companies, including Guangzhou Pharmaceutical Holdings, immuno-oncology drugs producer BeiGene and Guangzhou Wanglaoji Pharmaceutical, have become known nationwide.
Due to its geological location, Guangzhou has important links to Hong Kong.
The current era has also brought another special mission for the city when the central government announced the construction of Guangdong-Hong Kong-Macao Greater Bay Area in March.
As a major city in the area, Guangzhou will play a key role in the area's commercial, cultural and civil exchanges, according to the South Nongovernmental Think-Tank's Peng.