Trio of attractors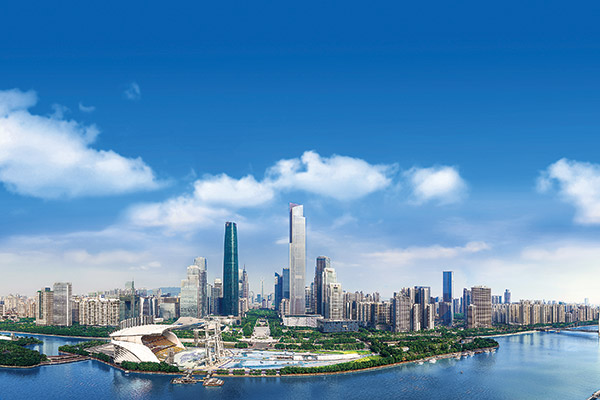 Guangzhou, capital of Guangdong province in South China, boasts a friendly climate for business and innovation. [Photo provided to China Daily]
Three districts help to put Guangzhou on the global innovation map
Three districts in Guangzhou, capital of Guangdong province, highlight the city's focus on innovation. Yuexiu, Tianhe, and Guangzhou Development District all exhibit the local government's success in creating supportive environments for business and innovation.
In Yuexiu, 32 commercial buildings and two headquarters obtained star-level building certificates on Nov 2.
The total floor area of these 32 commercial buildings covers more than 1.4 million square meters and they brought in 6.3 billion yuan ($952.8 million) in tax revenues in 2016, accounting for 20 percent of the district's total tax revenue. In other words, each square meter of these buildings generated tax revenue of 4,347 yuan last year.
"We have upgraded the criteria for evaluating starred commercial buildings this year, in a bid to enable those that meet the criteria to better represent the high quality of the starred buildings," said Feng Zhihui, deputy dean of the Guangzhou Institute of Standardization.
Since the district designated its first group of starred commercial buildings in 2015, subsequent commercial developments have taken these as examples when designing facilities to attract companies, Feng said.
The Pearl River International Building is one of the starred developments in the district and it has improved its status from a four-star building to a five-star one within two years.
Zhang Jiaoli, project manager of the developer Hopson, said: "We have been unremittingly upgrading our facilities, smart visitor system, commercial services and security control since being evaluated as four-star."
"We conduct a satisfaction survey among our lessees twice per year, and the results show that their satisfaction has been above 98.5 percent every year," Zhang added.
To date, the Pearl River International Building has drawn some renowned enterprises, including Fortune 500 companies such as Sodexo and Stryker.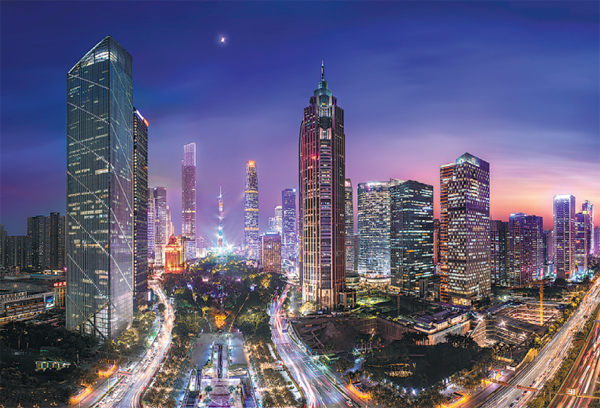 Bustling downtown Guangzhou. The southern city has released innovative policies to spur high-quality growth in the local economy. [Photo by Yang Yi/For China Daily]
Another starred complex, the Guangdong International Building, has established a industrial cluster, gathering a group of consulates, overseas education agencies, banks and airlines.
"The starred commercial buildings have already become key platforms for Yuexiu to attract, incubate and cultivate businesses," said Su Pei, head of the district. "Successfully forging a batch of high-end commercial buildings injects strong momentum to the district's economy growth."
Yuexiu has attracted 325 key projects and five capital companies each with 1 billion yuan in registered capital in the first three quarters of this year.
There are also 11 projects funded by Fortune 500 companies and 67 significant projects located in Guangzhou Development District.
Zhou Yawei, a member of the standing committee of Guangzhou's Party committee, said: "Guangzhou Development District is a battlefield hub for the information technology, artificial intelligence and biopharmaceutical industries."
To speed up the administrative procedures for companies, the district has established the first administrative examination and approval authority in Guangdong that offers one-stop streamlined services.
A Cosma automotive system project funded by Magna, a world-renowned auto parts supplier, went from contracting to operating in the district in just half a year.
As a result of the faster administrative procedures, "every two or three days, a new project launches in Guangzhou Development District," said Hong Qian, director of the district's investment promotion bureau.
"By creating a business and innovation-friendly climate, Guangzhou is attracting advanced economic elements," said Ni Pengfei, director of the City Competitiveness Research Center at the Chinese Academy of Social Sciences. "Guangzhou's influence and international popularity are increasing tremendously."
In September, Tianhe district initiated special policies to support the fir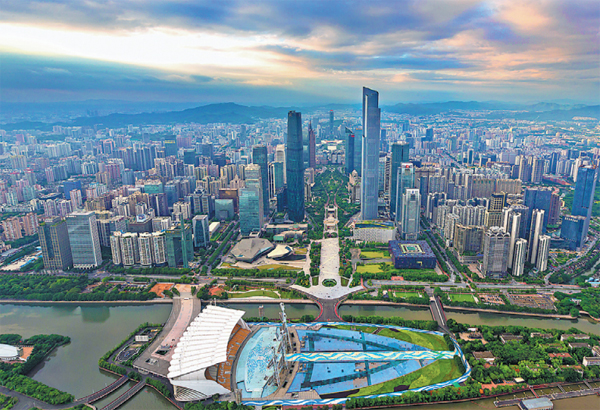 A bird's eye view of Guangzhou. With a long tradition of commerce, the city has played a key role on the Maritime Silk Road. [Photo provided to China Daily]
st venture capital building nationwide-the Tianhe Venture Capital Building.
The policies mainly cover rent, a public service platform and government affairs.
Companies that rent less than 600 square meters in the Tianhe Venture Capital Building are exempt from paying rent for the first year and only have to pay half the rent for the second and third year. It means that each company can save around 1 million yuan a year.
The building plans to attract hundreds of venture capital institutions, with total managed funds of 200 billion yuan by 2020.
To date, Tianhe district has more than 200 licensed financial institutions, accounting for almost 70 percent of Guangzhou's total financial service providers.