China leads in industrial innovation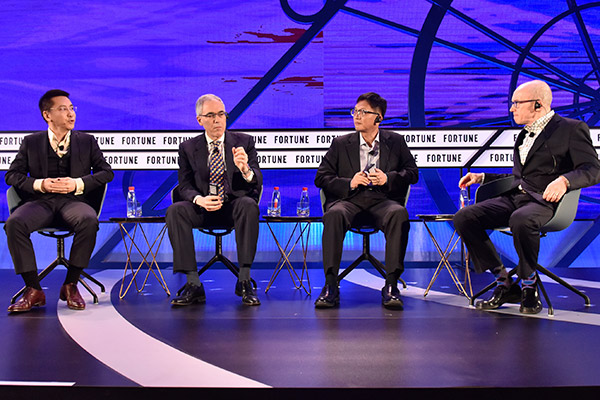 From left: A panel discussion among Roger Luo, president of DJI, Jay Walker, founder of Priceline, and Zeng Guangming, co-founder of Kuaishou Technology, with the moderation of Alan Murray, president of Fortune. [Photos provided to China Daily]
China is much more likely to become a leader in innovation in key emerging industries-boosted by its young talent, government support and extending internet penetration-according to panelists attending the Fortune Brainstorm Tech International Conference in Guangzhou on Tuesday.
For a long time, China was not perceived to be an innovator in some Western countries, according to Jay Walker, founder of online travel operator Priceline.
That's because innovation, which fundamentally is about disagreeing with the old, was not seen as intrinsic to Chinese culture, Walker explained.
But its dynamic and pioneering development in some emerging industries, such as e-commerce and high tech, is breaking that stereotype.
China is capable of exponentially increasing its technological levels, with more tangible results from the e-commerce and online payment industries coming in the next few years, according to Walker.
Seven Chinese companies, most of them focusing on the internet and e-commerce business, have been listed in the annual Fortune 100 Fastest-Growing Companies list published in September.
Unlike developed nations that are able to attract global talent, China is pursuing a path that is totally different from Western countries.
That's according to Zeng Guangming, co-founder of Kuaishou Technology, a Chinese video sharing app.
"Young talent in China are making the waves," said Roger Luo, president of DJI, a leading civilian drone and aerial imaging technology company.
The average age of his company's employees is around 27 years old. He said an environment that nurtured entrepreneurship had helped his company to grow.
In the wake of government efforts that prioritized support for entrepreneurship, young people had more opportunities to turn their innovative ideas into reality, he said.
The State Council has introduced a slew of measures to promote innovation and entrepreneurship. These are offering tax rebates to startups and are having streamlined registration procedures for new companies over the past few years.
A home-grown research and development revolution is also powering the innovation process in China, creating incentives for more innovation, according to Walker.
Chinese R&D investment has grown remarkably in the past few years, with annual growth greatly exceeding that of the United States and the European Union.
Greater internet penetration means innovation will be ignited within a bigger population in the future-including people in rural and remote areas in China-because the internet helps to bridge the gaps between different regions, according to Zeng.
"Young people sitting in rooms in China's rural west will have the chance to learn exactly the same thing as those in Beijing," he said.
Zeng added that with these coming changes, he felt there i a massive potential that has yet to be tapped.
As of July 2017, there were 751 million internet users in China and internet penetration rate reached 54.3 percent, 1.1 percentage points higher than for the same time in 2016, data from China Internet Watch showed.