Cheetah banks on artificial intelligence to spread reach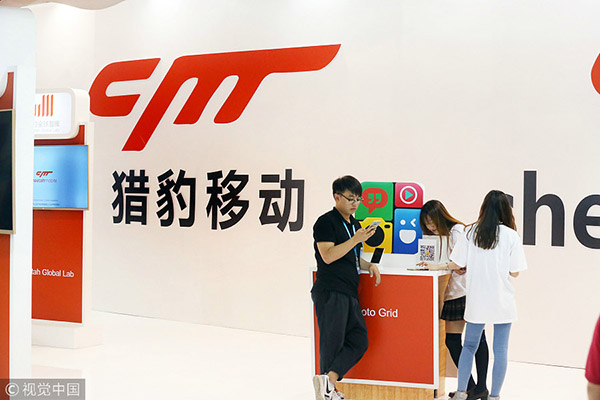 A Cheetah Mobile stand at an internet and information security expo in Beijing. Cheetah Mobile is stepping up efforts to expand its presence in overseas markets. [Photo/VCG]
Chinese internet and mobile app publisher Cheetah Mobile Inc is stepping up efforts to expand its presence in overseas countries by upgrading its products and services with artificial intelligence technologies.
Fu Sheng, CEO of the Beijing-based company, said it is very important to have abundant application scenarios and a large number of users to achieve breakthroughs in AI and this is exactly in line with the company's edge.
By applying image recognition technologies to Live.me, a live streaming platform which is ranked as the most popular social-networking app on Google Play app store in the United States, the company said it can now automatically track user-generated content. The move has greatly boosted work efficiency and lowered labor costs.
Cheetah Mobile has also invested $400 million into an AI startup called Beijing Orion Star Technology Co Ltd, in a move to beef up its technology prowess.
Unlike the first-wave of Chinese internet players such as Baidu Inc and Tencent Holdings Ltd which rely on the domestic market to thrive, Cheetah Mobile gets 75.4 percent of its nearly 600 million monthly active users from abroad. The firm has managed to achieve that within just six years.
The Beijing-based company started to zero in on overseas markets after competition in the domestic market intensified in 2012. It worked hard to adapt itself to foreign markets.
"Our strategy is straight-forward: develop utility apps, which are hardly subject to cultural influences and enjoy universal, steady demand," Chen Bo, a software developer at Cheetah said.
The Beijing-based company quickly gained a presence by rolling out Clean Master, the Android junk cleaning app, and CM Security, which protects smartphones with anti-virus software and privacy.
But unexpectedly, cultural obstacles still popped up. "Users in the Middle East complained against an ad on our app because the girls on that ad wore off-shoulder tops," Chen said. "We then worked hard to localize our apps as per overseas sensibilities."
Cheetah Mobile found advertisement revenue hard to come by as users generally don't use e-tools and apps of the kind it develops every day. As a result it has been transforming itself into a content business through research and acquisitions.
"Apps that provide content and services, such as social media apps, live streaming apps, maps, mobile payments apps and online shopping apps have become the new trend for Chinese developers who are targeting emerging and developed markets," said Wei Fangdan, CEO of Baijingapp, an online community of more than 40,000 domestic app developers who have global aspirations.
In the third quarter of this year, Cheetah Mobile generated 154 million yuan ($23.4 million) in operating profit, marking a 303 percent year-on-year growth.