Cutting-edge innovation affects every walk of life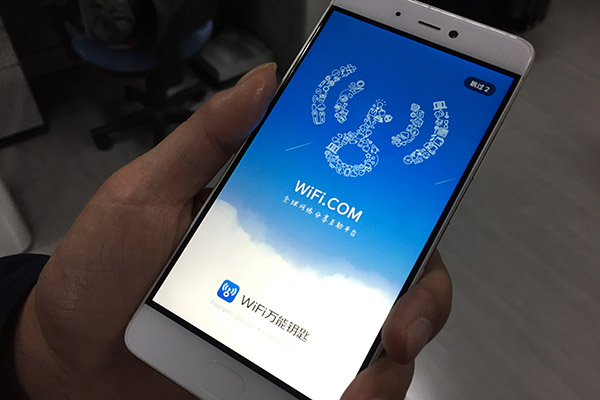 A customer makes a payment using WiFi Master Key, an app that connects to nearby WiFi hotspots without passwords. More and more people are benefiting from the sharing economy in China. [Photo provided to China Daily]
As a young reporter who has been covering the tech industry for only a few months, I am already overwhelmed by China's thriving internet landscape. Innovations are taking place in almost every nook and cranny, and there is no need for me to look beyond my daily life to find clues.
Every day, I go to work on a shared bike, a homegrown mobile idea that helps me circumvent congested roads and cut my carbon footprint. On the way, I usually stop at a convenience store to buy breakfast with the mobile payment tool Alipay, no need to bring cash. In the afternoon, after enjoying a cup of coffee in a cafe, I can surf the internet with shared Wi-Fi and chat with my best friend in France via WeChat, a popular social networking platform.
This is exactly how internet and mobile technologies are reshaping my life, and that of millions like me across China. The sharing economy, mobile payment and social media, as China's three major internet innovations in the 21st century, have become omnipresent in the country, thanks to both favorable policy support and a growing pool of talent that is scrambling to put the technologies into creative applications.
During the 19th National Congress of the Communist Party of China, General Secretary Xi Jinping called for more efforts to make China into a country of innovators who will push us to the frontiers of science and technology.
"We will work faster to build China into a manufacturer of quality and develop advanced manufacturing, promote further integration of the internet, big data, and artificial intelligence with the real economy," Xi said.
Among those cutting-edge innovations, one of the most impressive must be the booming sharing economy, which generates more than $500 million a year in China, bringing "what's yours to ours". The idea that "access is more important than ownership" is embraced by an increasing number of people.
Three years ago, for instance, bike-sharing didn't exist in China. Today, I am among millions of people riding shared bicycles every day.
With the top two bike-sharing enterprises Mobike and Ofo offering services, the new model of sharing economy has solved the "last mile" problem of getting people from public transportation stations to their homes.
Moreover, sharing economy goes far beyond than bicycles. Cabs, homes, pricey fashion, everyday clothing, basketballs, umbrellas, bags, accessories ... and even Wi-Fi services are being hurled into the sharing economy.
If searching for a Wi-Fi connection becomes a headache for me when hanging outside, Wi-Fi Master Key, a shared Wi-Fi platform, relieves that problem to some extent, as it can offer me a collection of free Wi-Fi connections.
Another interesting story that can be taken as a good example of the ongoing innovation is that even senior citizens are adopting such new internet-enabled lifestyles.
One day, I bought snacks from a street vendor. I was surprised when the stallholder, a women in her 80s, asked me to pay the bill by scanning the QR-code with my smartphone.
It dawned on me then that the "no-cash lifestyle" really is now everywhere in China, regardless of ages and groups.
While it took the US decades to establish a credit system and promote card payment, it took just a few years for China to adopt cashless online payment.
In 2016, the market size of China's mobile payment industry became nearly 50 times as big as that of the United States, according to Financial Times.
Moreover, leading players such as Alipay and WeChat Pay are making their mark in the outside world by moving away from the original function of simply facilitating transactions and embracing new activities such as wealth management, credit scoring and utility bill payments.
WeChat, a leading social media platform, has even grown into an all-encompassing platform where people can order food, buy movie tickets, hail cars and even buy stocks.
It is also enabling users to become content creators and start their own account. Just like YouTubers, WeChat account owners can spread their messages and influence to millions of followers.
More important, WeChat has started a new business model where ordinary people can earn a decent income by running their account. One of my friends started a public account on army life and gathered more than 100,000 followers within a year, which has brought him considerable income. Now, we often jokingly refer to him as the "richest man" among our circle of friends.
However, the situation isn't perfect. I see rising problems such as the safety and supervision problems of the sharing economy, but at the same time, I see government and big players working hard to improve profitability and management.
As these internet-enabled innovations including sharing economy, online payment and social media have made China a center of innovation and revolutionized hundreds of millions of people's lives, I can't wait to see the next great innovation of China. So, what's next?