Steel consumption to rise 7.7% this year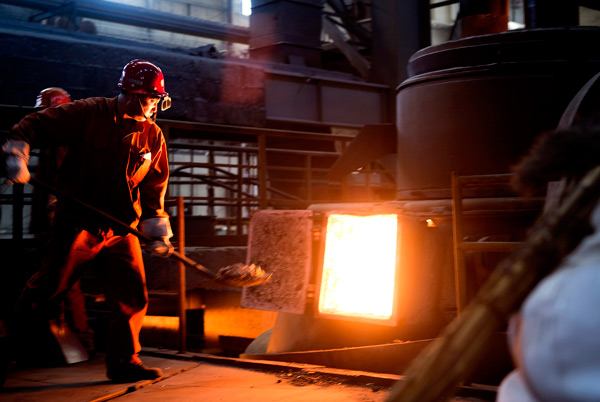 Workers at a steel plant in Luoyang, Henan province. [Photo by Huang Zhengwei/For China Daily]
The nation's steel consumption is expected to rise 7.7 percent to 725 million metric tons this year amid an improving economy and better performance of major steel consumers, an industry research and planning institute said on Monday.
The country's steel demand will grow by 0.7 percent to 730 million tons in 2018, said a report from the China Metallurgical Industry Planning and Research Institute.
China's crude steel output will increase 3 percent year-on-year to 832 million tons in 2017, and by a further 0.7 percent to 838 million tons next year.
Iron ore demand in the world's top buyer is expected to rise 1.3 percent to 1.122 billion tons in 2017 from last year and drop 0.2 percent to 1.12 billion tons in 2018.
Major steel consumers including real estate construction, machinery, automobile, energy and shipbuilding will be the main contributors to the country's rising steel demand next year.
Real estate construction will remain the biggest consumer of steel products in 2018, with demand amounting to 388 million tons, up by 0.3 percent from this year which is estimated at 387 million tons.
The machinery industry comes second with 138 million tons of expected steel demand in 2018, up by 1.5 percent year-on-year, followed by the automobile industry with 59.5 million tons, and energy with 32.5 million tons.
Li Xinchuang, president of the institute, said that China will continue to cut outdated steel capacity and manufacture more green and high-quality steel products next year.
"China's steel manufacturing infrastructure is the most advanced in the world. The small and unregulated steel mills, which are producing substandard steel with high pollution, should be eliminated," Li said.
"The steel enterprises should increase their investment in research and development as well as environmental protection to maintain their competitiveness in the world," Li added.
Earlier this year, the National Development and Reform Commission, the country's top economic planner, set a timeline to phase out production of low-quality steel made from scrap metal, or ditiaogang, before the end of June.
Authorities have sent 12 inspection groups to some areas including Hebei, Henan and Heilongjiang provinces, and the Guangxi Zhuang autonomous region to oversee the move, according to Lin Nianxiu, deputy head of the NDRC.
China plans to reduce crude steel output by 100 to 150 million tons by 2020.
More than 65 million tons of steel production capacity was phased out in 2016, beating the annual target. The country met the 2017 capacity reduction goal of 50 million tons by the end of August this year.
In 2016, the central government spent over 30 billion yuan ($4.53 billion) helping 726,000 workers made redundant in the steel and coal industries to find new jobs. The number of workers to receive aid this year is estimated at 500,000.