Innovation is the gateway to the future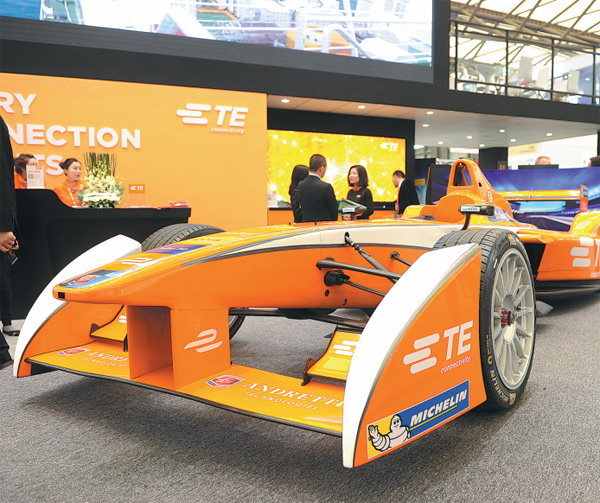 A Formula E race car co-developed by TE Connectivity and Andretti is displayed at an electronics exhibition in Shanghai in 2016. [Photo provided to China Daily]
Editor's Note:
The Communist Party of China concluded its 19th National Congress in Beijing on Oct 24. China Daily asked business leaders from major multinational companies for their views on economic developments here and the country's global leadership role.
Zhang Chao is global vice-president and China president of TE Connectivity, a leading global sensor and connector manufacturer listed in the United States.
What factors will bolster China's growth this year and in 2018?
We hope to see more investment in research and development. This will help China become a knowledge-based economy with a great manufacturing industry.
What three words would you use to describe China today?
I would simply say, "The Future". A digital transformation is under way and it will not only contribute to the country's economic growth, but transform it by integrating technological innovation with the real economy, finance and human capabilities.
Can China's experiences or practices be used to solve global problems?
The world is calling for a safer, sustainable, productive and connected future. To achieve this, China is making tremendous efforts in a unique way, which fits its own social condition, economic landscape and culture.
China has the longest high-speed rail network, the longest sea bridge and one of the largest electric car markets and manufacturers in the world. Moreover, the country has a leading e-commerce economy.
From our perspective, TE has a global footprint and a strategic presence in China. Our team is recognized as pioneers in manufacturing efficiency and innovation.
We are designing and building sensor and connectivity technologies that will benefit customers all over the world, especially in the automotive, appliances and industrial areas.
Which sectors offer the most opportunities for development?
China is undergoing structural rebalancing and is upgrading its manufacturing capabilities. This will require more efficient and intelligent factories.
With the emergency of the internet of things, or IoT, we can leverage it for data collection and use artificial intelligence to process it. By doing this, we can generate operational efficiencies that have not yet been possible.
Another area of great potential is overall consumption with the increase in household incomes.
This includes increasing demand for healthcare, consumer electronics, automotive, entertainment, smart appliances and education.
Nearly all modern technological advances require a backbone of connectivity. Again, this will need reliable and smart sensor and connectivity technologies.
At TE, we are working closely with Chinese and global customers to advance transportation, data communications, industrial applications, smart home and medical care technologies.
What are the most innovative trends or products in China?
The country is in the middle of a digital transformation. The penetration of mobile users in China is as high as 96.3 percent and Web-based commerce has witnessed robust growth.
I am very excited about the breadth and depth of this transformation, as well as the mass opportunities in enhancing productivity, driving innovation and improving our livelihood.
China is known as a global manufacturing giant, but what will be the nation's "calling card" in the future?
As the world's second largest economy, the country is shifting from a labor-intensive manufacturing model to a robust economic engine driven by innovation and productivity.
For example, the Belt and Road Initiative covers about 65 percent of the world's population, a third of the world's GDP, and about a quarter of all the goods and services that move around the world.
Given its geographic coverage and capital investment, it will bring great benefit to China, to the related regions and to the rest of world. This is part of the reason why our China team is so integral to TE's global business.
What will China be like in five years and what is the country's long-term future?
Next year, we expect China to maintain stable economic growth and continue structural rebalancing .
In the next few years, we believe the service sector and consumption will play even bigger roles in the national economy, while advanced manufacturing industries will continue to grow rapidly.
TE is predicting a strong business performance from China. Fueled by innovation, the country is transforming rapidly and we see many more opportunities to deepen our partnerships with Chinese customers.
How do you view China's role in the world today?
The country has already made great progress in accelerating economic reforms and pushing for a sustainable model of economic growth.
The achievements in high-speed rail, as well as civil aviation, clearly show China has great potential.
At TE, we are proud to be part of the journey. With approximately 20,000 employees in China, we are excited to work with our customers and clients all over the world. This in turn will push forward advancements in transportation, industrial applications, medical technology, energy, data communications and the smart home.
What is the most unforgettable experiences you have had in China?
In September, we held TE's board meeting in Shanghai, which was very important. But then, we are all about people. We have 20,000 employees here.
Their drive, intelligence and resilience has helped make the country a key market for TE. In fact, more than 18 percent of our global sales in the fiscal year of 2016 came from China.
What opportunities will the Belt and Road Initiative throw up for China and the rest of the world?
It is a long-term project, but we have initial ideas about the potential opportunities it might bring to the country, to the region and to global companies by looking at investment priorities.
We understand the initiative's significance in promoting economic growth and regional cooperation.
By implementing this initiative, China has the opportunity to strengthen its relations with participating economies and create new drivers and markets.
Economies along the Belt and Road should also benefit as most projects, under the initiative, are concentrated in utilities, transport, construction, social, telecommunications, energy and environmental sectors.
These investments can certainly drive economic growth and improve the livelihoods of populations across the region.
Last but not the least, the initiative provides new frontiers for global companies to further enhance businesses and cooperation with China.