Affluent travelers opting for polar trips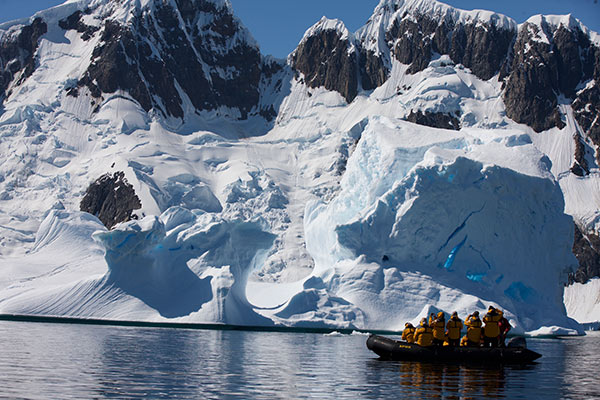 Chinese tourists take photos near the South Pole.[Photo by Wang Yanan/China Daily]
High-end tourists from China are setting new benchmarks in terms of the locations they prefer to spend their holidays, with a growing number of them opting for polar destinations such as the South Pole.
China's largest online travel agency Ctrip said it has received an unusually large number of inquiries for its South Pole tours this year and estimates that more than 1,000 Chinese tourists would be staying at the South Pole during the upcoming Spring Festival holiday in February.
The best season to visit the South Pole is usually between December and February as it is summer time there.
To cater to the rising demand, Ctrip has come up with more than 100 itineraries, including direct flights, concerts at the polar area, cruise trips and even travel in a chartered ship. The South Pole trips, which run from 12 to 37 days, are priced between 60,000 yuan ($9,095) and more than 600,000 yuan per person. Trips priced between 80,000 yuan and 120,000 yuan for each person, which last for up to 20 days, are the most popular.
Trips to the polar regions have witnessed explosive growth in China in the past few years. According to the International Association of Antarctica Tour Operators, China contributed the second largest number of tourists to the South Pole in 2016, next to the United States. The number of Chinese tourists who visited the South Pole reached 3,944 last year, soaring nearly 40 times from the less than 100 in 2008.
The momentum is expected to continue. According to the Chinese Luxury Traveler 2017 Report-jointly released by the Hurun Research Institute and International Luxury Travel Market Asia in June-about 32 percent of the affluent travelers born in the 1980s with an average personal wealth of 22 million yuan are keen on making a trip to the South Pole in the next three years, which is 15 percent higher than the number a year ago.
Zhang Xi, 55, visited the South Pole four years ago during a 35-day trip starting from South America. Running a family business that deals with textile machinery in Shanghai with her husband, she has a relatively bigger budget for traveling and always chooses the less visited areas.
Charles Wang, general manager of the product center at HHTravel-the luxury travel brand operated by Ctrip-explained that most of the visitors to polar regions are executives at multinational companies and private company owners aged between 35 and 50.
These travelers are keen to know about the ocean and the biological and historical background about the polar regions. Therefore, travel agencies have to provide professional guides and experts in wildlife, habitat and photography.