Share swap program to get oversight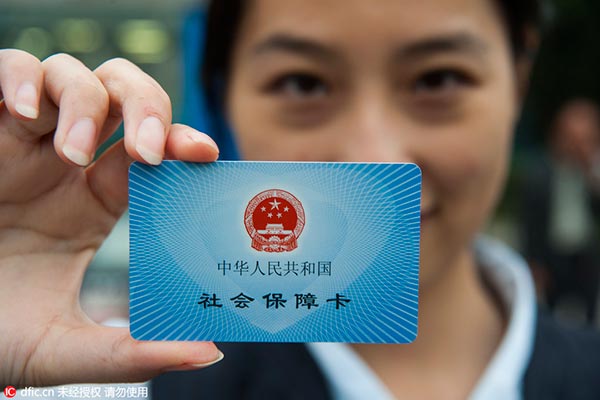 A bank clerk shows a social security card at a branch of China Construction Bank (CCB) in Haian county, Nantong city, East China's Jiangsu province, Oct 30 2014.[Photo/IC]

Three to five State firms, two central financial institutions in first batch
China's finance ministry will coordinate with other government departments to introduce a policy regime which supervises and evaluates the pilot program that will transfer shares of State-owned enterprises and financial institutions to the country's social security fund.
Starting from next year, different groups of SOEs and financial institutions will be approved stage by stage for share transfer, and the whole process is expected to be finished soon, said the Ministry of Finance.
Experts expect that the regime may include detailed standards for selecting specific enterprises as the targets, and the methods to assess the value of transferred assets.
According to an announcement, which was released on Nov 18 by the country's cabinet, the State Council, 10 percent of the State-owned equity will be transferred to the National Council for Social Security Fund and wholly State-owned enterprises.
By the end of this year, three to five SOEs and two central financial institutions in several provinces are planned to be selected as the first batch to start the program, the State Council's statement said.
A report from The Economic Observer, a local business newspaper, said on Monday that China Resources Group, Industrial and Commercial Bank of China and China Construction Bank may be included in the list of the first batch.
It also said that the Ministry of Finance will be in charge of the first round of enterprises' selection, after which it will coordinate with the State-owned Assets Supervision and Administration Commission and ask for opinion from the enterprises themselves.
The State-owned Assets Supervision and Administration Commission didn't respond on this information.
This pilot program is aiming to ease the pressure of pension payments through making up for possible shortfalls as the aging population continues to grow, and it will cut the burden of the working generation by expanding the pension fund scale without raising taxes or pension contribution rates, said the Ministry of Finance.
By the end of last year, the total income of China's social security fund has reached 5.01 trillion yuan ($759.1 billion), up by 8.1 percent from a year earlier, according to the ministry.
The total expenditure of the social security fund was 4.36 trillion yuan, a year-on-year rise of 11.5 percent, marking a surplus of 650.8 billion yuan, as the official data showed.
Su Peike, a researcher with the Public Policy Research Institute at the University of International Business and Economics in Beijing, said that the ratio of the transferred State-owned equity could possibly be continually increased when the pilot program sees effective results, to better offset the large pension gap.