Li: Agricultural imports from CEE will increase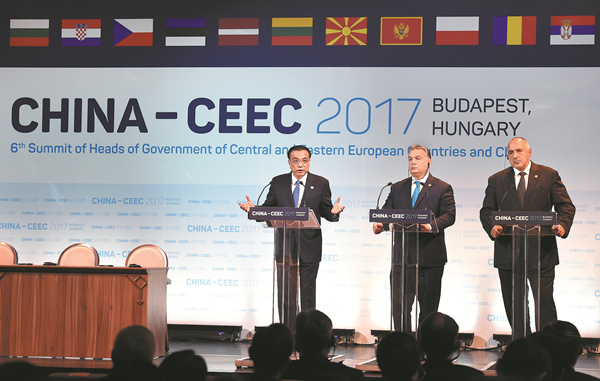 Premier Li Keqiang addresses an economic forum attended by 16 Central and Eastern European leaders on Monday in Budapest. Hungarian Prime Minister Orban Viktor (center) and Bulgarian Premier Boyko Borisov also spoke. ATTILA KISBENEDEK / AFP
Premier said financing will grow for joint projects with Central, Eastern Europe
Premier Li Keqiang said on Monday that China would increase agricultural imports from Central and Eastern European countries and provide greater financial support to China-CEEC cooperative projects.
He made the announcement during the seventh China-CEEC Economic and Trade Forum, which attracted more than 1,000 business people to Hungary's capital, Budapest.
China wants to import more agricultural goods like meat and dairy products, honey and fruit, Li said.
"Next year, an import exposition will be hosted by China, and … I hope CEE nations will take part in it and win Chinese consumers," he said.
Li said that the financing should be expanded. China supports the financing of cooperative projects by commercial financial institutions and supports enterprises from CEE nations issuing panda bonds in China, he said. A panda bond is a renminbi-denominated bond from a non-Chinese issuer. He said renminbi financing will be supported for cooperative projects.
Li also announced the establishment of a China-CEEC bank consortium, to which the China Development Bank will grant loans worth 2 billion euros ($2.4 billion).
Li said a second round of the China-Central and Eastern Europe Investment Cooperation Fund, initiated by the Industrial and Commercial Bank of China last year, has been completed to raise $1 billion. The fund will mainly invest in CEE nations.
In the past five years, China-CEEC cooperation has registered achievements that benefit people from both sides, Li said on his arrival on Sunday. As part of China-Europe ties, China-CEEC cooperation has promoted the development of countries in the subregion, balanced development for all of Europe and the continent's process of integration, he said.
The measures were the latest move in financial cooperation. A financial holding company was established in November 2016 to fund projects that promote Chinese-made equipment and products after the fifth Meeting of Heads of Government of China-Central and Eastern European Countries in Riga, Latvia.
Minister of Commerce Zhong Shan said that the first such forum was held in Budapest six years ago and the event has played a vital role in boosting economic ties and promoting cooperation under the framework of the Belt and Road Initiative.
Hungarian Prime Minister Viktor Orban said at the forum that European countries now need technological and financial support from China and Asia, and the China-CEEC mechanism, also known as "16+1" cooperation, will benefit the EU and all of Europe. Orban said large enterprises in Asia are increasingly participating in the Western market with first-class technologies, which has played a key role in the development of CEE nations.
Wang Yiwei, a professor of international studies at Renmin University of China, said CEE countries are still in the process of changing from socialist economies into market economies and they want to attract more investment from China.
Investing in the area will also provide opportunity for China to enter the West European market, he said. Also, "16+1" cooperation is a highlight in Belt and Road cooperation, and the initiative will promote level and significant "16 + 1" cooperation, he added.
Zhou Jin contributed to this story.
huyongqi@chinadaily.com.cn