Reform pays dividends for SOEs
Their profits rose by 24.6 percent in the first 10 months as economy improved
State-owned enterprises in China saw their profit growth quicken in the first 10 months of this year amid an improving economy and deepening reform, official data showed on Nov 21.
Combined SOE profits rose by 24.6 percent year-on-year to 2.39 trillion yuan ($360.2 billion; 306.7 billion euros; £271.5 billion) from January to October, the Ministry of Finance said on its website.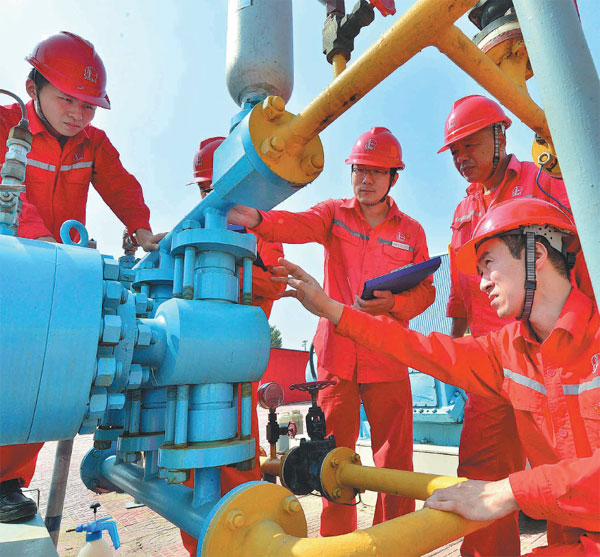 Technicians from Sinopec check oil storage facilities in Puyang, Henan province. Tong Jiang / For China Daily
The growth was slightly lower than the 24.9 percent increase seen in the first three quarters but higher than the 21.7 percent expansion in the first eight months.
SOEs directly under the central government posted a 17.8 percent increase in profit to 1.55 trillion yuan, while local SOEs' profit rose by 39.4 percent to 837.5 billion yuan during the January-October period.
"The profit growth of SOEs is mainly because of the supply-side structural reforms, the improving international and national economy and weak performance several years ago," says Ji Xiaonan, a former chair of the Board of Supervisors for Key Large-Sized State-Owned Enterprises.
"As a major component of the real economy, the better performance of SOEs will generate new growth momentum for the real economy this year," says Ji.
A more efficient, flexible and market-oriented management mechanism has laid the groundwork for further SOE ownership reform, Ji says, noting that the country should not relax its efforts to reduce the asset-liability ratio of SOEs.
The business revenue of SOEs amounted to 42 trillion yuan, up by 15.4 percent year-on-year. Their operating costs increased by 14.6 percent to 40.61 trillion yuan during the same period.
By the end of October, the total assets of SOEs stood at 150.63 trillion yuan, while their liabilities reached 99.21 trillion yuan, both up by around 11 percent compared with the same period last year.
SOEs in the steel, nonferrous metals, coal and petrochemical industries had relatively large profit increases, but power generation companies suffered significant declines, the data showed.
China has 150,000 SOEs at different levels that manage more than 100 trillion yuan in assets and employ more than 30 million people.
However, many SOEs have experienced stagnating growth due to a lack of competition.
The government is trying to improve their performance and efficiency through mixed-ownership reform and market-oriented management.
In July, the State Council, China's Cabinet, released an action plan that required all central SOEs, excluding financial and cultural bodies, to complete corporate governance reforms by the end of this year, which is expected to help clear away institutional barriers for further SOE reform.
The country has picked a group of 31 SOEs, run by regional authorities or the central government, for the third round of mixed-ownership reform, according to the National Development and Reform Commission.
So far, 19 central SOEs in the first two groups - including China Unicom and China Eastern - have undergone mixed-ownership reforms in the power generation, oil and gas, railway and telecommunications sectors.
Contact the writers at zhengxin@chinadaily.com.cn
(China Daily European Weekly 11/24/2017 page25)