Is the bubble bursting for China's shared bike industry?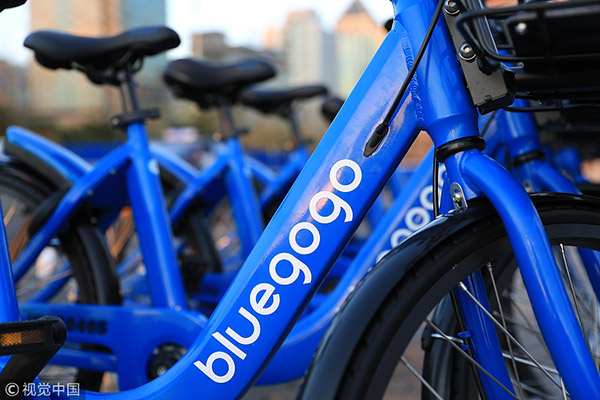 Bluegogo's shared-bike in Beijing, March 7, 2017. [Photo/VCG]
BEIJING - Many of China's shared bike users have fallen as victims of defaults on their deposit refunds, after two operators went bust.
Coolqi, known for its green shared bikes, and Bluegogo, with its iconic blue bikes, have drawn disapproval as users are having difficulty in getting deposit refunds.
The two firms have appeared on the latest list of bankrupt bike sharing firms, issued by the China E-Commerce Research Center (CECRC). Coolqi, with 1.4 million shared bikes, went bankrupt November in a suspected capital chain break, and Bluegogo, with 830,000 bikes, closed the same month due to suspected financing failure.
The headquarters of Bluegogo in Beijing is near-empty.
Li Wensheng, father of Bluegogo founder Li Gang, Thursday met with bike suppliers and investors, admitting the company's incompetence in drawing financing to sustain its capital chain.
No party has claimed responsibility for refunding public deposits.
In addition to the bike users, Bluegogo employees disclosed on social media that the company might be unable to pay employee salaries.
Debtors have queued in front of Coolqi's headquarters in the Tongzhou District of Beijing, asking for the return of deposits.
The company announced Sunday that it has entrusted a company in Chengdu, capital of southwest China's Sichuan Province, to deal with refunds.
Xinhua reporters tried to call the company's three service hotlines, but lines appeared busy.
Gao Weiwei, former CEO of Coolqi, said the 650 yuan ($98) cost of a bike was enough to cover a user deposit of 298 yuan.
"In the worst scenario, we will allow debtors to ride our bikes home," he said.
China's bike sharing market is expected to rake in 10.3 billion yuan ($1.5 billion) in revenue this year, a 736-percent increase from 1.2 billion yuan in 2016, according to a report from iiMedia Research.
It estimated the number of shared-bike users in China will hit 209 million this year, compared with 28 million last year.
A report issued by the China Internet Network Information Center in August estimated that users may have paid 10 billion yuan in deposits for using shared bikes.
For example, Bluegogo requires a deposit of 200 yuan for using its mobile app to scan the QR codes and unlock its shared bikes
Zhao Zhanling, a lawyer with the Beijing Zhilin Law Firm, told Xinhua that bike sharing firms entrust banks to deal with user deposits. However, as the number of users and deposit amounts change day to day, it is difficult to have an accurate number.
According to the China E-Commerce Complaints and Rights Protection Service Website, a third-party e-commerce dispute mediation platform, complaints concerning shared bikes have topped e-commerce disputes.
Among the accused operators, Bluegogo and Coolqi jointly account for 20 percent of complaints, while the market leader Mobike takes 60 percent of complaints, mainly involving difficulty in getting deposit refunds and bad customer service.
Chen Liteng, analyzer from CECRC, said China's bike sharing sector had been developing extremely fast.
"Although governments at various levels have created guidelines to regulate the market, there are no clear requirements concerning details such as how to manage and use the deposit funds," he said
Cao Lei, CECRC director, said bike sharing operators had used the businesses as a way of fund-raising.
The investment-driven bike sharing market has been ballooning fast.
Cao said a number of Chinese cities, including Beijing and Shanghai, had limited the increase in the number of shared bikes, and that this had impaired bike sharing companies' appeal in capital markets.
He advised regulators to set rules on an unified process and time limit for users to get deposit refunds from bike sharing operators, and require firms to keep independent bank accounts to ensure they can afford to refund users.