China to demand 6,103 new passenger aircraft over 20 years: AVIC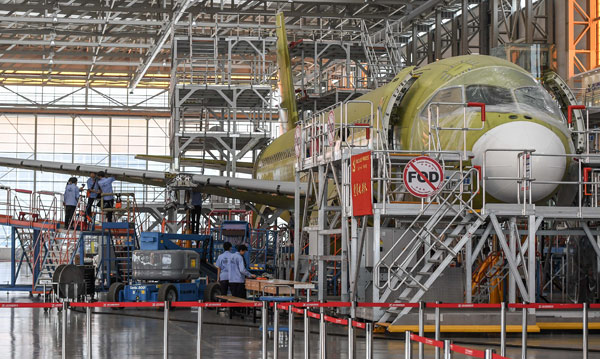 Engineers test a C919, China's first large passenger plane, in Shanghai. [Photo/Xinhua]
BEIJING - China will need 6,103 more passenger aircraft over the next 20 years, according to a forecast released by the Aviation Industry Corporation of China (AVIC) Thursday.
The newly recruit passenger fleet will include 5,120 jumbo jets and 983 regional aircraft, according to the "China Civil Market Outlook for Civil Aircraft (2017-2036)" report.
By the end of 2036, the number of passenger aircraft for the country's civil aviation transport will reach 7,079, including 6,065 large-and-medium jumbo jets and 1,014 regional aircraft.
In the same period, China's cargo fleet in the civil aviation market will reach 748.
Stable growth in China's economy, tourism, urbanization and the upgrading of consumption are major factors increasing demand for aircraft, according to the report.
Over the next 20 years, the ratio of wide-body passenger aircraft in China's civil fleet will increase due to expanding trade accelerated by the Belt and Road Initiative.
Robust growth in international travel will also encourage airlines to purchase more wide-body aircraft.
The country's regional aviation market is also expected to see faster growth thanks to government support in building more airports.
In 2016, aviation passenger and cargo traffic volumes reached 488 million people and 6.68 million tonnes respectively, rising 11.9 percent and 6.2 percent year-on-year, respectively.
By the end of 2016, China's civil aviation fleet reached 2,950 aircraft, including 2,818 passenger aircraft and 132 cargo freighters. The net increase was 300 aircraft.
AVIC is the manufacturer of the country's turbo-engine MA60 regional aircraft, which has transported more than 10 million passengers around the world on about 300 air routes.
On May 5, China's first domestic large passenger aircraft C919 conducted its maiden flight. Its developer, the Commercial Aircraft Corporation of China (COMAC), has received 730 orders from 27 customers worldwide.
The country's first domestic regional jetliner ARJ21, also developed by COMAC, has entered into mass production. It has received 433 orders from 20 clients so far.