Sky-high Wi-Fi ready to fly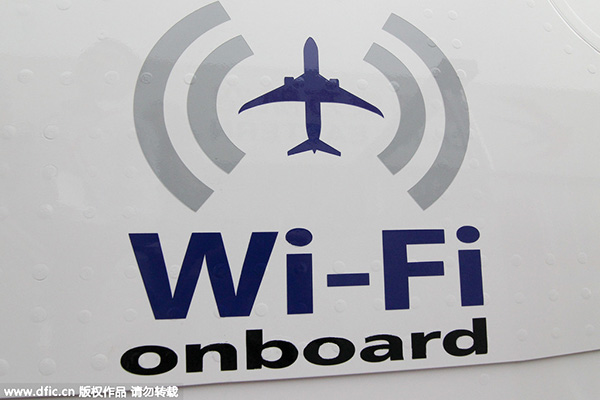 The Wi-Fi services will be available from Nov 12, 2015 on China Eastern flights from Shanghai to New York, Los Angeles and Toronto. [Photo/IC]
Airline passengers will be able to surf the internet in the air almost as fast as they do on the ground, as China Unicom, China's second-largest telecom carrier by subscribers, prepares to demonstrate its in-flight Wi-Fi service next month.
The move came shortly after local airlines were allowed to decide for themselves whether passengers could use personal electronic devices during flights, paving the way for a new multibillion market.
China Unicom said more than 80 airplanes from carriers including China Eastern Airlines and China Southern Airlines have been equipped with its internet software and systems.
"Next month, we will demonstrate a stable, high-speed internet surfing experience onboard planes that's roughly similar to what we have on the ground," China Unicom said in a statement, without disclosing more details.
Currently, in-flight Wi-Fi is available only in some planes of Chinese airlines. A report by research firm Routehappy shows that 78 percent of airlines in the United States provide some sort of connectivity. In China, it is 23 percent, according to a domestic aviation statistics company Vari-Flight.
Xiang Ligang, a telecom expert and chief executive of industry website Cctime, said that so far, most of the in-flight Wi-Fi service in China is of poor quality or just partially connected, which makes it hard for airlines to commercialize such offerings.
"The effort by China Unicom is likely to change the landscape. Its years of experience in satellite communication and telecom services may help make onboard connectivity more affordable and stable," he added.
China Unicom said the service would be run by Unicom-AirNet, a joint venture it set up in April with several local partners. The company said it has built the largest satellite communication infrastructure in Asia, which will help ensure communication quality.
China introduced a ban on using electronic devices during flights in 1999 due to safety concerns.
But starting Oct 1, airlines were allowed to decide for themselves whether passengers could use such devices.
As an increasing number of passengers are willing to pay for onboard connectivity, Chinese airlines are expected to generate up to 11.83 billion yuan ($1.78 billion) in revenue from offering such service in 2020, Carnoc.com, a major Chinese civil aviation website, forecast.
Ma Bin, a software engineer in Beijing who is frequently on business trips, said, "That's exactly what I need. I am willing to pay for such service as long as it does not charge over 20 yuan an hour."