Ping An to list tech, internet units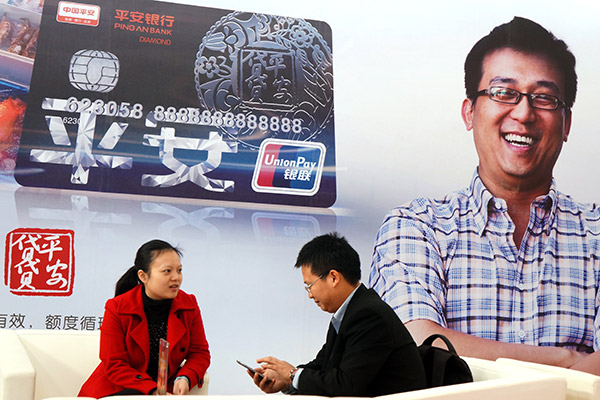 A Ping An Bank employee (left) addresses queries from a customer on credit and loan services at a financial expo held in Beijing. [Photo/for China Daily]
Insurance company to invest $7.54b in development of innovative products
Ping An Insurance Group Co of China Ltd is planning to spin off and list its technology and internet units separately and set up more financial services platforms as part of a strategic transformation plan, the company said on Monday.
Jessica Tan, deputy chief executive and the chief operating officer and chief information officer, said Ping An is transforming by applying biometrics, big data, artificial intelligence and blockchain and iCloud technologies to empower four business ecosystems-financial services, healthcare services, automobile services and real estate finance.
Tan said Ping An has invested more than 50 billion yuan ($7.54 billion) internally on research and development to develop innovative projects including financial technology, medical technology, artificial intelligence and externally exported socialized services. Financial technology is expected to lift potential returns on bank earnings by as much as 44 percent.
Ping An said the four ecosystems are estimated to reach a market size of as much as 550 trillion yuan by 2022. Tan said the fifth ecosystem would be on city life but it would take time to establish this new business.
Jason Yao, chief financial officer and chief actuary, said the Chinese mainland's insurance market was far from saturated compared with that in other developed countries.
He pointed out that Ping An will consider spinning off the listing of technology and internet subsidiaries in the near future but gave no timeline.
He also mentioned that Ping An has been doing internet insurance business for 15 years including the launching of Lufax business and has been focusing on technology for seven years.
Ping An now has more than 22,000 technology staff, with 40 percent coming from internet companies and 20 percent possessing masters degrees, 500 big-data scientists and 2,000 global patents. Tan said their team is expected to expand in the future.
Discussing competition from internet companies entering the insurance industry, Yao said insurance technology is a trend and Ping An is open to cooperation with them.
Li Yuan Siong, deputy chief executive and chief insurance business officer, said the company is conducting an asset-light approach, adopting a "finance plus technology" strategy that will consistently improve profit and value, though the company's share price has not fully reflected its value yet.
Ping An's net profit in the first six months of this year rose 6.5 percent year-on-year to 43.43 million yuan. The company's core finance businesses had an overall individual customer base of 143 million, increasing 9.3 percent year-on-year; it has 403 million internet users.
Ping An's shares closed at HK$86.2 ($11) in Hong Kong on Tuesday, up 8.84 percent from Monday's closing price.