China will continue to play a vital role in the global market
Editor's Note: The Communist Party of China concluded its 19th National Congress in Beijing last month. China Daily asked business leaders from major multinational companies for their views on economic developments here and the country's global leadership role.
Raj Bhan is vice-president and China managing director at Westinghouse Electric Corp, a major nuclear energy company based in the United States.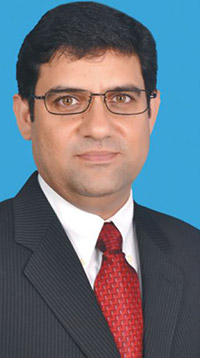 Raj Bhan, vice-president and China managing director at Westinghouse Electric Corp. [Photo provided to China Daily]
What has been China's biggest achievement during the past five years?
I have been working here since 2011, and I am so happy to have had the opportunity to witness and experience the rapid development of China. You can see this every day.
I take a high-speed train from Beijing to Shanghai, and use WeChat to communicate with my colleagues. I even pay bills on my phone. I always share these exciting experiences with my friends back in the US. At the 19th National Congress of the Communist Party of China, I noticed President Xi Jinping called for accelerating reform of the ecological civilization system in order to build a beautiful China.
By doing this, the country needs to advance the development of clean energy and continue to combat climate change.
That is why China continues to promote the role of nuclear in the energy mix. This provides opportunities for nuclear energy companies, such as Westinghouse, to play an important role in this initiative.
What three words would you use to describe China today?
Stability. Vitality. Competitiveness. They are the three key words I would use to describe China. Its economic development has been stable during the past several years. China's GDP (gross domestic product) has increased by 48 percent from 54 trillion yuan ($11.05 trillion) to 80 trillion yuan across this period.
In terms of vitality, the service-oriented industry is racing along with the development of e-commerce. Infrastructure, such as the railroads and highways, brings more interaction between cities across the country. The inclusive business environment also creates more opportunities for foreign investors and young people, who are willing to start their own businesses.
From the news, I understand China is forging international collaboration opportunities to export its industrial products and value-added services. It has shifted from manufacturing low-end commodity goods to being a high-tech services provider.
Westinghouse is working with its partner here, the China State Nuclear Power Corp, to seek opportunities in the global nuclear energy market.
What is the biggest challenge China faces?
As President Xi mentioned at the 19th CPC National Congress, China should focus on innovation and aim for cutting-edge technology. From my perspective, it takes time to achieve this goal. To leverage the expertise from countries, China can accelerate this progress with regard to intellectual property rights.
And I think China has recognized it and has started working toward this direction.
For example, the Chinese government signed the initial four units of AP1000 contracts with Westinghouse back in 2007. Now, in 2017, the technology sharing process is almost complete.
Can China's experiences, or practices, be used to solve global problems?
Certainly our collaboration model with the Chinese State Nuclear Power Corp has been successful. It is recognized by the management teams from both parties and we are considering utilizing this model in future business opportunities in global markets.
What will China be like in five years and what is the country's long-term future?
China will continue its steady growth and play a vital role in the global market. Its efforts in fighting climate change will make it a great place to live and work. I am optimistic about the objectives set by President Xi. As he said, China will further open up its service sector, and protect the legitimate rights and interest of foreign investors.