Forging a brighter future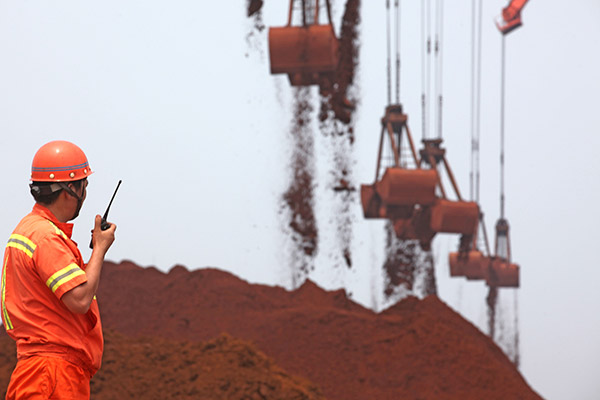 A dockworker supervises the unloading of iron ore at Qingdao Port in Shandong province. [Photo provided to China Daily]
Editor's Note: The Communist Party of China concluded its 19th National Congress in Beijing last month. China Daily asked business leaders from major multinational companies for their views on economic developments here and the country's global leadership role.
Pioneering spirit has helped fuel the country's achievements in the past five years
Jean-Sebastien Jacques is the first French-born CEO of Rio Tinto, a leading global mining group, which was founded in 1873 and is based in London.
What has been China's biggest achievement during the past five years and its most notable change?
The country's economic achievements during the past five years are extremely impressive, contributing about a third of global economic growth. Its share of global GDP (gross domestic product) was about 15 percent in 2016.
For a country with the diversity and complexity that comes with a large population, and vast geographic landscape, this is an achievement that should not be underestimated. It is an impressive success story.
Every time I go to China, I am surprised by the dynamics hidden behind the stunning economic statistics. As chief executive officer of Rio Tinto, I am really happy to see the breadth of infrastructure building and improvements wherever I go.
On behalf of our 50,000 employees, it makes me proud that the metals and minerals we supply to China have contributed in no small way to the country's economic and social progress.
Success has many drivers and there are other factors at play. But there is little doubt strong leadership has been crucial with President Xi Jinping at the core. The stability of the country and the ongoing reform policy to open up China to the world have also been vital.
What three words would you use to describe China today?
People. Prosperity. Potential. The people are the foundation of the nation, while prosperity is the common goal pursued by China's government and society. Potential will be something the whole world will witness as the country strives to deliver those aspirations.
But there is another "P" word I would like to use ... pioneer. China's achievements are filled with many firsts. At Rio Tinto, we are proud to be pioneers in mining and metals. We have operated with a pioneering spirit during the past 145 years to develop some of the world's largest and best quality mines.
We have established partnerships in new markets, especially in China, where we have been operating for more than 100 years. We have also tried to pioneer technological innovation in the way we do things. I believe China's many firsts have been driven by a pioneering spirit. That ethos has brought the country to where it is today and sets a platform for a brighter future tomorrow.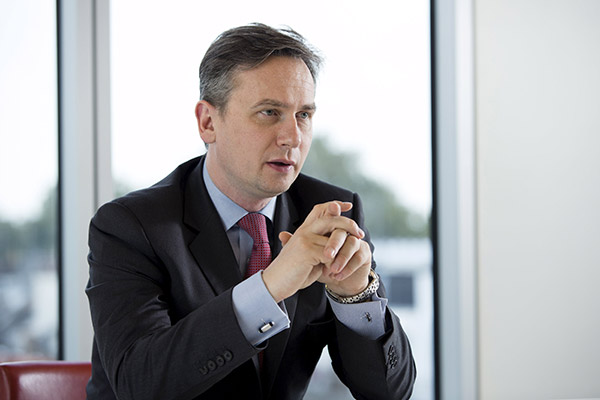 Jean-Sebastien Jacques, CEO of Rio Tinto. [Photo provided to China Daily]
What were your impressions of the major economic and industrial policies that came out of the 19th CPC National Congress?
With President Xi re-elected as the general secretary of the Central Committee of the Communist Party of China, we can expect continuity of the country's major policies. These include the emphasis on quality development and the gradual progress toward a more market-driven economy.
There were also further moves toward openness and cooperation, as well as the promotion of the Belt and Road Initiative. All of these policies are very relevant to our business.
President Xi also said in his report to the congress that China would significantly ease market access, and protect the legitimate rights and interests of foreign investors. This is all good news for the international business community, including Rio Tinto.
China is Rio Tinto's largest customer, accounting for more than 40 percent of our global revenue. It is also one of our biggest shareholders. We want to work with China to realize its long-term strategic goals through sustainable business operations.
As pioneers in mining and metals, we produce materials essential to human progress. Rio Tinto's metals and materials, including aluminium, copper, diamonds, gold, industrial minerals, iron ore, coal and uranium, essentially make up the world around us.
In particular, we are closely following China's supply-side structural reform, and the Belt and Road Initiative. They will have a huge impact on demand for the high-grade products which we supply to our customers.
Can China's experiences, or practices, be used to solve global problems?
In many ways, China's tremendous growth and development acts as an inspiration to the rest of the world. During this year's congress, President Xi shared the country's experiences in overcoming underdevelopment.
In presenting the "China Way", or the "China Approach", President Xi was not promoting the nation as a model to be followed, but rather talking about the experience. He called on people to look at the unique circumstances and challenges, as well as the innovative solutions that suit the culture and the conditions.
In other words, "seeking truth from facts" (shi shi qiu shi, a popular Chinese saying) is the essence and direction that we can apply when tackling problems.
I believe this approach provides ideas for business leaders, as well as for policymakers confronted with international issues around the world. These include my colleagues who help run Rio Tinto.
What will China be like in five years and what is the country's long-term future?
Rio Tinto remains very confident about China's long-term economic development. As supply-side reforms continue, the country will be rewarded with a healthier industrial structure.
There is no doubt that China's economic momentum will remain the key factor in driving sentiment around commodity markets for the foreseeable future.
With that demand impetus, Rio Tinto is ready to supply the metals and materials that power Chinese economic development and urbanization through our long-term commitment to the country.
At Rio Tinto, we want to be the nation's preferred supplier, preferred customer and preferred partner in our sector for many years to come.
What is your impression of President Xi Jinping?
I had the honor of sitting in on President Xi's speech at the opening ceremony of the BRICS (Brazil, Russia, India, China and South Africa) Business Forum in Xiamen in September. Clearly, he is a leader with vision, insight and wisdom.
I expect there will be a lot of academic research on President Xi's "Thought on Socialism with Chinese Characteristics for a New Era", and I will be interested in reading some of the analysis.
He is certainly a global leader who is determined to leave his mark on the world as he endeavors to deliver for the Chinese people.
What is the most unforgettable experience you have had in China?
In the year or so since I became CEO of Rio Tinto, I have visited China many times with quite a few unforgettable experiences and moments to mark various milestones for Rio Tinto.
Our newly established partnerships with SASAC (State-owned Assets Supervision and Administration Commission) and Minmetals are all important in Rio Tinto's rich history in China.
So is our long-term joint venture with Sinosteel and Baosteel (now China Baowu Steel Group Corp Ltd) and our enduring relationship with Chinalco (Aluminum Corporation of China Ltd).
I also had the honor of attending a few international events in the country, as well as being co-chair of the B20 Infrastructure Taskforce in Hangzhou in September last year. I was also chair of a panel discussion, The Belt and Road Initiative: A New Chapter of Open Integrated Development, at the China Development Forum in Beijing in March. Then in September, I attended the BRICS Business Forum in Xiamen.
These are important global leadership opportunities. During these events, I was able to engage with government, business and academic leaders from around the world to discuss China and development issues in a very open and practical way. I received the impression that the country was transforming into a global leader.
As a CEO of a Fortune 500 company, which sectors do you think offer the most opportunities for development in China?
I noticed that President Xi highlighted the importance of building a strong real economy in China, a goal relevant to the metals and materials Rio Tinto produces. A strong economy is a catalyst for demand.
Our products of iron ore, aluminium, copper, diamonds and industrial materials are widely used in aircraft, cars, smartphones and hospitals, and, of course, throughout our homes.
We are closely watching the growth of China's real economy in areas such as infrastructure, transportation and telecommunications.
The whole world is also looking at the car industry and trying to determine how it will be transformed by electric vehicles.
With China playing an increasingly important role in the global economy, any development in the country can create opportunities for businesses big and small across the globe, including companies such as Rio Tinto.
What opportunities will the Belt and Road Initiative throw up for China and the rest of the world?
I chaired a panel discussion on this very topic at the China Development Forum in March. Infrastructure is fundamental to global growth-it underpins communities and builds nations. China has shown the world what can be achieved.
No matter where I am, a lack of infrastructure is a hot topic. Roads, rail lines, transport links and power generation are all part of the infrastructure story. They can drive economic growth by creating jobs, increasing investment and enhancing productivity.
Policymakers should look a lot closer at the productivity, economic and social dividends generated by a massive global infrastructure push. China's infrastructure boom provides lessons for the rest of the world.
Chinese authorities are pragmatic about infrastructure and have placed the Belt and Road Initiative at the center of the policy agenda.
They are already looking at how China, the Asian region and the world can cooperate and make better use of bilateral and multilateral approaches to deliver all important regional infrastructure.
Policymakers are considering how to best harness the financial expertise of the private and public sectors.
This is very important, not only to China, but also to the many countries that can directly benefit from the vision of the Belt and Road Initiative. At Rio Tinto, we see this potential.
We are pioneers in mining and metals, and produce materials essential to human progress. These materials are needed for the Belt and Road infrastructure program.
And it is not just companies like Rio Tinto that are interested in the initiative. Multilateral groups, such as the B20 as you can imagine, are watching the progress closely.
China is known as a manufacturing giant, but what will the nation's "calling card" be in the future?
Rio Tinto has been expanding its business buying from China. In the past ten years, we have purchased more than $7 billion in goods and services from the country for use in our global operations.
Chemicals, raw materials, fabrications, engineering services, electrical products and heavy equipment are all on our shopping list in China.
By working closely with local suppliers, we have witnessed rapid progress in safety and health awareness, and increasing stability of product and service quality.
We have also seen an improvement in innovation tailored to customer needs, as well as an expanding "after sale" services.
This has all led to greater sourcing from China, demonstrating our faith in the country's excellence in manufacturing and underlining our commitment to the market.