Fast food behemoth eyes big expansion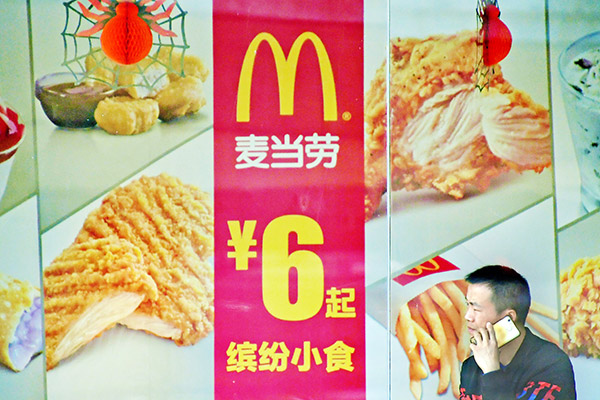 A pedestrian passes an advertisement for McDonald's in Zhengzhou, capital of Henan province. [Photo/for China Daily]
US fast food giant McDonald's plans to open more than one restaurant every day in China over the next five years to attain its goal of having 4,500 restaurants in the country by 2022, according to a top official.
The restaurant chain, which has about 2,500 outlets in the country, will become more agile and flexible to fulfill the growth potential that exists in smaller cities on the mainland, said Phyllis Cheung, CEO of McDonald's China Co Ltd.
Cheung's comments came on Tuesday at the McBanquet, an annual event that showcases the company's innovation in products and services and the steps taken to ensure food safety.
Earlier in the year, the US chain agreed to sell most of its mainland and Hong Kong business to CITIC and Carlyle for up to $2.1 billion. The deal, which saw CITIC take the majority stake (52 percent) in McDonald's China operations, has given it more freedom and resources to reach out to Chinese consumers.
"In the past when we had to invest or reinvest in China, we had a ceiling for numbers. Now we can move in a phased manner and move faster than any other region in the world, such as in the field of mobile payments," she said.
More touchscreens, table services and delivery services will be available in the restaurants across China, as "fast" and "convenience" are redefined. By the end of 2018, some 90 percent of existing 2,500 stores will become renovated into "restaurants 2.0 version" with digital devices facilitating mobile ordering, payment, and service ratings and feedback.
"Consumers need more than just a good location and fast food. They want outstanding experiences across all channels, be it eating at the restaurant or in delivery services," she said.
Consumers in lower-tier Chinese cities are now willing to spend in a Western style fast food chain and the lower rental and labor costs ensures good profit margins for operators, according to data from consultancy firm McKinsey.
"We are also open to more collaborations and partnership opportunities, as long as there are shared common interests. Currently most of the restaurants are rented, but we shall not rule out the possibility of buying land and developing our properties in lower-tier cities for drive-thru restaurants," she said.