McDonald's China to have high-end focus, says CEO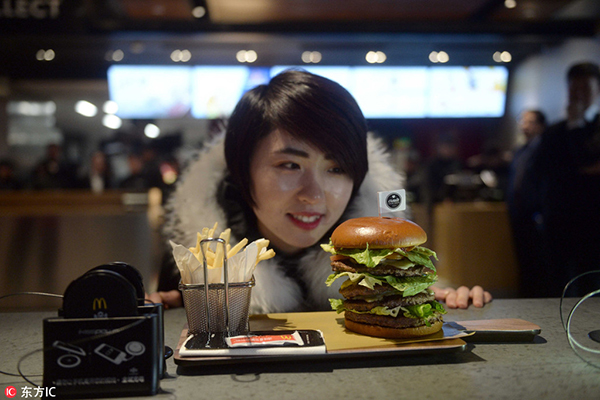 A Chinese customer looks at her customized burger at a fastfood restaurant of McDonald's in Beijing, Jan 27, 2016. [Photo/IC]
High-end hamburgers will be the focus of product innovations in McDonald's in China, said Phyllis Cheung, CEO of McDonald's China , in Shanghai Tuesday.
Cheung made the remarks at McBanquet, an annual event showcasing the burger chain's innovative ideas for menu and services.
McDonald's China operations will become agile and flexible, fulfilling the potential of market growth after a deal earlier this year, in which Chinese financial firm Citic took the majority stake (52 percent) in McDonald's operations in China, said Cheung.
More touchscreens, table services and delivery services will be available in the Golden Arches restaurants across China, as "fast" and "convenience" are redefined. By the end of 2018, some 90 percent of existing 2,500 stores will become renovated into "restaurants 2.0" with digital devices facilitating mobile ordering, payment, and service ratings and feedback.
The company expects to nearly double the number of stores in the China market to 4,500 by 2022 with a focus on growth in third- to fifth-tier cities, said Cheung.
In terms of food safety, McDonald's China will set up a committee for food safety and quality which reports directly to the board to ensure that food safety in the China market is meeting the brand's global standards.
"Our commitment to food safety will not be compromised in any sense," she said.