Tsinghua Holdings, Beijing Future Science Park host green energy forum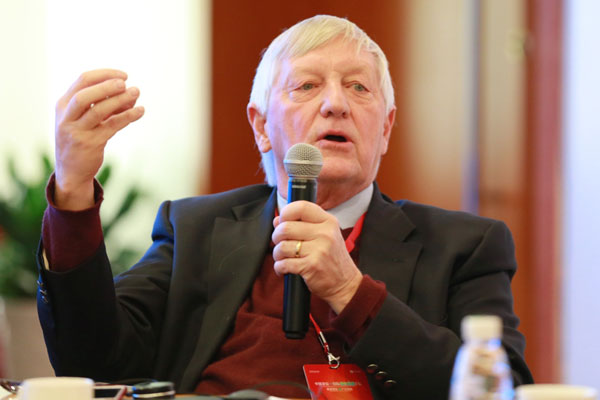 James Sweeney, director of Stanford University's Precourt Energy Efficiency Center, speaks during the forum.[Photo provided to chinadaily.com.cn]
A clean energy themed forum was held at the Beijing Future Science Park on Nov 19, at which Chinese and foreign experts shared the latest scientific research and exchanged industrial development trends and prospects.
Beijing (China) International Green Energy Forum was organized by Tsinghua Holdings and the science park's administration committee and operation company. It gathered nearly 100 experts, scholars and corporate representatives from China and the United States to discuss such topics as how to increase energy efficiency to create a cleaner and safer economy, and what kind of international cooperation should be conducted in future to facilitate technological innovation.
Distinguished foreign guests included James Sweeney, director of Stanford University's Precourt Energy Efficiency Center, and Daniel Kammen, director of a renewable energy laboratory at the University of California, Berkeley.
Organizers said the forum was an important result of Tsinghua Holdings' innovation plan, called Trans-X Innovation Ecosystem.
The world's largest university-owned enterprise initiated the plan in September to promote greater collaboration and development worldwide in the transition from technological to industrial innovation.
It also hopes to support advanced science and technology projects to seek investment and upgrade existing entrepreneurship incubation systems through its Trans-X Innovation Ecosystem plan.
The plan mainly focuses on nine areas: artificial intelligence, biological engineering, new materials and new chemicals, new energy and environmental protection, intelligent manufacturing and robots, Internet of Things and integrated circuits, financial technologies, health and medical care, and big data and smart cities.
Ten online roadshows in each technological field will be arranged every year to screen and evaluate related projects.
According to the company, Trans-X Innovation Ecosystem is a positive attempt to connect Chinese companies with overseas innovative technological projects, to arrange matchmaking foreign investment opportunities, and to provide support and services for both Chinese and international companies by linking capital, market and industries.
In October, Tsinghua Holdings organized several roadshows in Silicon Valley, New York, Boston and Michigan to promote Trans-X Innovation Ecosystem's vision, involving big platforms, extensive transactions, value creation and value sharing.