Regulation informs banks' asset forays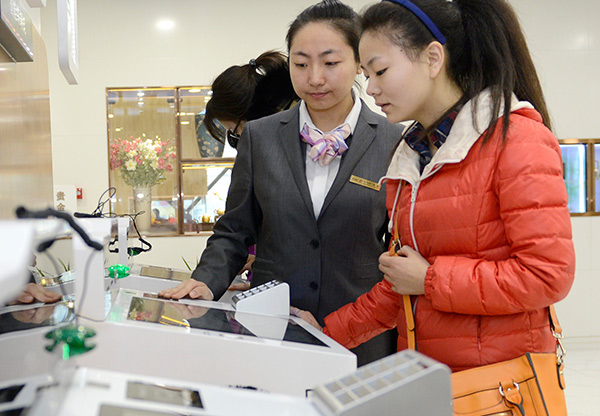 An employee (center) of the Industrial and Commercial Bank of China addresses queries from a customer on wealth management products at a Beijing branch.[Photo/Xinhua]
The new draft regulations for financial institutions' asset management business will lead to further differentiation among banks offering such services, academics said.
The future of banks' asset management business will depend on their expertise in the field, they said.
Zeng Gang, director of banking research at the Institute of Finance and Banking, which is part of the Chinese Academy of Social Sciences, said new regulations require asset managers to have stronger professional skills. This will help increase differentiation of the business segment.
China's central bank, along with banking, securities and insurance regulators, issued the draft regulation on Friday and sought comments from stakeholders.
According to the draft, financial institutions should stop offering guaranteed protection for principal and returns on certain asset management products.
The current products will transform into floating-income financial products that are open for purchase and redemption every week or every month, and have no expected rate of return.
The regulators also decided to forbid a financial institution from using another financial institution, a so-called "channel" firm, to raise and invest asset management product funds to keep such products off balance sheets and thereby avoid many regulatory requirements, such as restrictions on leverage and the scope of investments.
Ba Shusong, chief economist of the China Banking Association, said: "The existing rules of the game will change gradually and the asset management ability will become the focal point of capital investment.
"With the deepening of reform in the asset management industry, the trend of financial disintermediation will keep going, and the funds that used to be invested in financial products with guaranteed principal and rates of return will flow into asset management products in the real sense. During the process, the size of the industry will continue to expand and the number of participants that are truly capable of asset management will keep growing."
By the end of 2016, the total size of asset management business of various financial institutions in China exceeded 60 trillion yuan ($9 trillion), not counting cross-holding factors.
The balance of banks' on-balance sheet and off-balance sheet wealth management products reached 5.9 trillion yuan and 23.1 trillion yuan respectively, according to the People's Bank of China.
Zeng of the CASS said that in the short term, the size of issuance and growth rate of asset management products will shrink to some extent due to the transformation.
However, with continued growth of national wealth, the huge demand for diversified investment channels will help develop the asset management industry, he said.
"We expect the authorities to adopt a classification method of supervision of different banks. It means that a bank with strong asset management abilities may receive a license for asset management, whereas less capable banks may not receive a license or could only participate in this type of business in a limited way.
"In this way, the advantages of large banks in asset management will be further strengthened. On the other hand, small banks that previously relied on so-called 'channel' firms to raise and invest wealth management product funds may be eliminated by the market."
Academics said the regulators will allow an increasing number of commercial banks to set up their own asset management subsidiaries.
Many banks recorded a notable share price increase on Monday. The shares of Ping An Bank Co Ltd, a nationwide joint-stock commercial bank, closed at 14.25 yuan, up 8.12 percent from yesterday's closing price. China Merchants Bank Co Ltd, another joint-stock commercial lender, also saw a 3.91 percent jump in share price to 30.53 yuan.