Brief encounter for Triumph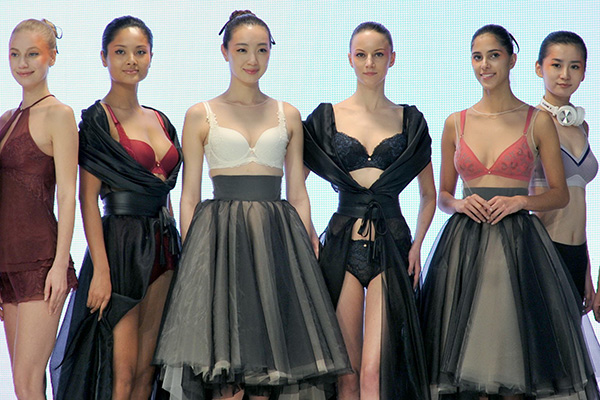 Models wearing lingerie from Triumph International pose at a fashion show in Shanghai. ONG HONGJING/CHINA NEWS SERVICE
Shanghai show throws down a brand marker to Victoria's Secret
Thirty-two years after Triumph International's pioneering move into the Chinese mainland, the lingerie giant has relaunched its luxury collection with a Shanghai fashion show.
With Lord of The Rings star Liv Tyler as the collection's new ambassador and front row guest, the show was held three weeks before its US rival Victoria's Secret debuted its latest designs in the same city on Monday.
The relaunched collection, Essence, included the group's most high-end offerings, priced from 800 to 2,000 yuan ($121 to $302) for a set, and was first introduced globally in 2009.
"The decision to support our sub-brands with celebrities and supermodels is the starting point where we want to have a big push for these sub-brands to grow globally," Oliver Spiesshofer, partner of Triumph International, told China Daily after the show.
"The Chinese mainland market for us is extremely important. Chinese consumers have been increasingly sophisticated, especially the ladies we are trying to reach with Essence," he added, explaining why Shanghai was chosen for the relaunch campaign, which is one of the most important global events for the company this year.
The Chinese mainland is the company's fastest growing and third largest market, after Germany and Japan.
Statistics from consultancy Euromonitor International showed that the company and its brand are ranked seventh in terms of retail value in the mainland, with a market share of 0.7 percent in 2016. In total, the top 10 players command 14 percent of the market share, which means it is still highly fragmented and dominated by many unknown small brands selling low-priced products.
But Spiesshofer sees more opportunities than challenges from the situation and believes consumers who are used to shopping for budget underwear will become the key growth driver for the company's luxury offerings, which have been enjoying consistent double-digit annual growth in the mainland over the past few years.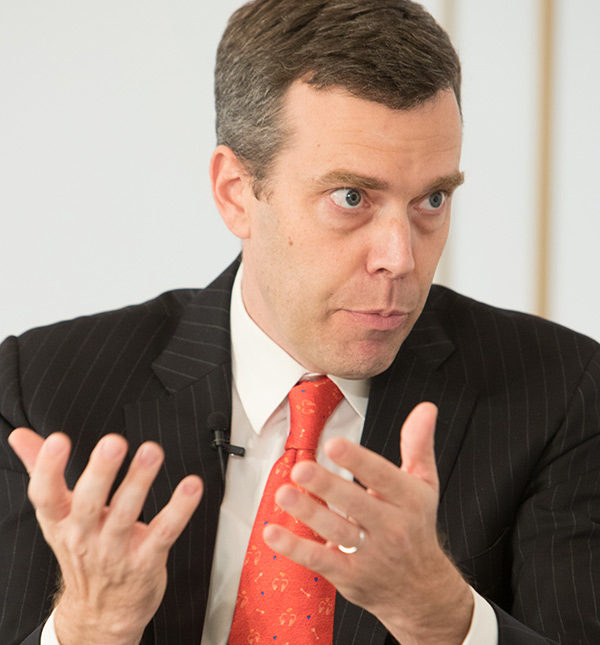 Oliver Spiesshofer, partner of Triumph International.[Provided to China Daily]
"As these people are catching up to become more sophisticated like the ladies in Beijing and Shanghai, they are going to be more preference-driven, instead of price-driven, when it comes to lingerie shopping," he said.
Spiesshofer is confident that as the company continues to expand, both on e-commerce platform and with physical stores, it will keep enjoying robust double-digit growth.
Triumph is now sold at 521 stores and sales points on the mainland. All of the products sold in the mainland have been exclusively tailored by a team based in Hong Kong, rather than its global research and development team in Switzerland, the company's headquarters.
"With the brands we have, we offer a huge variety of choices. In the end we can say anybody who makes any type of bra is our competitor. A market without competition is a very boring market," Spiesshofer said.
In March, Victoria's Secret opened its first outlet on the mainland in Shanghai. Italian high-end luxury lingerie brand La Perla, which already has five sales outlets on the Chinese mainland, said it would accelerate its expansion in Asia, especially the mainland, where the company is experiencing 30 to 40 percent annual growth.
The mainland's underwear market for women is expected to surpass 128 billion yuan by the end of this year, up by 6.7 percent, according to market research firm Mintel. However, average spending per capita on underwear is still less than 100 yuan.