Power merger generates energy behemoth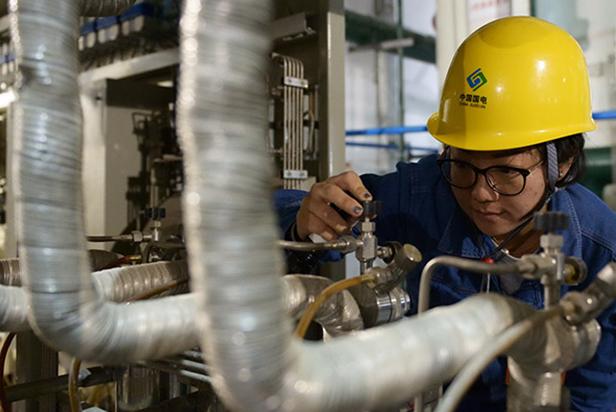 A technician of China Guodian Corp checks facilities in Lanzhou, capital of Gansu province. [Photo/Xinhua]
China's largest coal mining company and a major power generator said on Monday their merger was completed, creating the world's largest utility provider by capacity as the country continues to reform its colossal State sector.
Coal producer Shenhua Group and China Guodian Corp, one of the top five State power producers, announced the official merger into a new entity called China Energy Investment Corp. It comes as the country is trying to cut industrial overcapacity and streamline State-owned enterprises.
The merger will create an energy behemoth with combined assets estimated to exceed 1.8 trillion yuan ($271.5 billion) and the fourth-largest Chinese energy sector SOE-after China National Petroleum Corp, the country's largest oil and gas supplier and producer; China Petroleum and Chemical Corp, the world's biggest refiner; and State Grid Corp of China, the nation's electric power giant.
Analysts said some SOEs in the energy and heavy industry sectors suffer from overcapacity, and the integration will help reduce overcapacity and take advantage of both companies' strengths and resources.
The two companies are complementary to each other and enjoy a certain degree of synergy, and the merger of the upstream and downstream sectors could help ease structural problems in the power industry, which suffers serious overcapacity, said Zhang Jinxin, head of the Center for China Mergers & Acquisitions Research at Beijing Jiaotong University. The merger is not only part of the country's ongoing supply-side structural reform in the power sector, but also a way to straighten out the coal and electricity sectors, he said.
Zhou Dadi, a senior researcher at the China Energy Research Society, said the merger is in accordance with the government's plan to deepen the reform of SOEs. The State-owned Assets Supervision and Administration Commission has vowed to reduce the number of central SOEs to make them leaner and healthier.
Xiao Yaqing, chairman of the commission, said earlier this year that there was no way out but to speed up reform in sectors like coal power generation, heavy equipment manufacturing and the steel industry.
The commission has been actively restructuring SOEs this year in a bid to improve industrial efficiency, with the number of central SOEs falling to 98, down sharply from 196 in 2003.
Qiao Baoping, chairman of Guodian Group, becomes chairman and Party secretary of the new group, while Ling Wen, general manager of Shenhua Group, is president and deputy Party secretary.