Schneider Electric makes factory systems simple as apps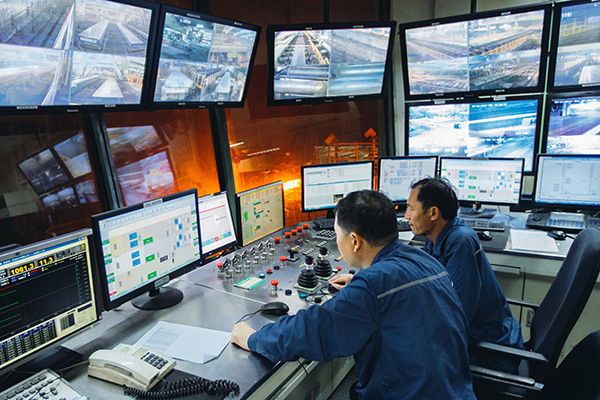 Baosteel engineers oversee unmanned operations at their workshop using Schneider Electric's automation software.[Provided to China Daily]
When Schneider Electric, which specializes in digitalizing energy management and automation, showcased EcoStruxure, its open, interoperable, internet of things or IoT-enabled system architecture, at the 19th China International Industry Fair in Shanghai earlier this month, it got many Chinese companies interested immediately.
EcoStruxure has been already adopted by China Baosteel Group, one of China's largest steel producers by output. It helps Baosteel to increase safety of operators and non-operators in the workshop and improve productivity. Daily output will likely increase 15 to 30 percent to reach up to 10,500 tons.
The Rueil-Malmaison, France-headquartered Schneider Electric is seeking to collaborate with various businesses in Shanghai to integrate the internet of things or IoT-a network of devices, vehicles, buildings and other objects that contain software or sensors that allow them to connect and exchange data-into traditional industries.
Schneider Electric now earns 45 percent of its revenue through the IoT.
The company has also unveiled System Platform 2017, which sets a new standard for operational excellence for industrial organizations.
The platform combines operational technology and information technology into one management interface. Users can easily access the system to practise various complex operations. The whole procedure is as simple as tapping smartphone apps. "It's like an industrialized Android system," said Ma Yue, senior vice-president, industry business, Schneider Electric China, the company's local arm.
The system also creates a centralized multi-user collaboration platform, which allows itself to maintain configuration, administration and deployment locally or remotely.
Combined with its sustainable design, the system can make a company a consumer of its own side-products.
Schneider Electric has more to offer China. It plans to use its Shanghai research and development facility to supply various types of products and services to both Chinese and global markets, said a senior Schneider executive.
The company currently has more than 700 researchers in China. The average time for a new product to go to market is 18 to 24 months.
Its China operation employs 26,000 staff across 26 factories, eight logistics centers, three R&D offices, five branches and 40 regional offices.
"China is also the second-largest market for Schneider Electric and the largest market of industrial automation, ahead of the US," said Ma.
"We've set a long-term goal to sell one-fourth of our products in the Chinese market and the rest to global markets. China's Belt and Road Initiative is encouraging us to deploy more resources in China and other related markets."
Schneider Electric's core strengths lie in both hardware (industrial equipment) and software ("solutions to seamlessly connect, collect, analyze and act on data in real time, delivering enhanced safety, efficiency, reliability, and sustainability" to "homes, buildings, data centers, infrastructure and industries"), as described on its website.
The company's presence in China is helping local companies in other ways as well, he said. "Based on China's strong manufacturing ability and rich resources, many Chinese companies have already started to invest overseas by selling industrial equipment and carrying out EPC (engineering, procurement and construction) projects. Schneider's products and services help them go global," said Ma.
Schneider Electric's technology prowess flows from its investment (5 percent of its revenue) in R&D. For that, it has established five regional research centers worldwide: in France, the United States, China, India and Mexico, respectively.
Chen Bin, executive vice-president of the China Machinery Industry Federation, said China is making progress on the path to becoming an advanced and competitive economy, but it will take time for the required changes to have an impact on industry.
Patience and consistency will be required, as well as continuous reforms along the way, he said.