Cultural approach widens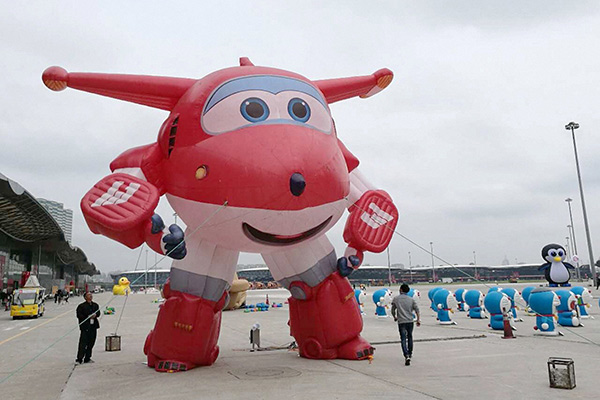 Alpha Group Co Ltd's comic character towers over the 11th China Licensing Expo in Shanghai on Oct 18, 2017. The CLE is the largest professional licensing platform in Asia. [Provided to China Daily]
Animation and toy maker Alpha Group increases pace of expansion abroad
Alpha Group Co Ltd, a major toy, animation and entertainment content company, is expanding cooperation with foreign companies, which will further increase its global footprint, according to a senior company executive.
Its business already covers more than 40 nations and regions. Alpha has established more than 20 overseas subsidiaries in North America, Europe, Southeast Asia and South Korea.
Alpha's animations, movies and other entertainment products have been broadcast and sold in more than 100 nations and regions in five continents.
"Cooperation with foreign counterparts plays an important role in exploring international markets as local partners and special personnel that better understand local markets will help Alpha easily integrate with foreign markets," said Seven Wang, executive assistant to Alpha's president.
Alpha has plans to establish two new offshore companies in Spain and Australia in two years, while more representative offices will also be set up in Thailand, Indonesia and Vietnam.
Alpha is also eyeing the New Zealand market, having started efforts to expand into Canada, East Europe and South America this year.
"Whether a new company will be set up in New Zealand or not has yet to be decided," said Wang. "Alpha has plans to build a new factory to produce toys in Indonesia next year."
As China's biggest branded toy manufacturer, Alpha sold more than 100 million items at home and abroad in 2016, netting more than 1.93 billion yuan ($291 million) from sales, up by more than 20 percent year-on-year.
Alpha has multiple marketing channels through cooperation with retail giants such as Amazon, Walmart and Target. "Alpha is now seeking to recruit a large number of specialists for overseas development," said Wang.
Listed on the Shenzhen Stock Exchange, the company established an international design and R&D center in Los Angles last year.
The LA center has played a big part in helping Alpha expand its world market in recent months. And the growing overseas operations have helped increase outside China sales, Wang said.
Last year, Alpha earned 1.01 billion yuan ($155.4 million) from overseas sales, up by 138 percent year-on-year.
In addition to the business of intellectual property, or IP licensing, Alpha earned profit mainly from sales of comics, animation products and toys in North America, Europe and Southeast Asia last year, Wang said.
She also said the Belt and Road Initiative would offer even more business opportunities for Alpha and other culture-related companies. "The country's cultural industry has made progress and the Belt and Road Initiative will certainly help companies to expand in the world market."
In late October, Sun Zhijun, deputy head of the publicity department of the Communist Party of China Central Committee, said the Chinese government actively promotes cultural exchanges and cooperation between Chinese and foreign entities.
At a news conference during the 19th CPC National Congress, Sun said: "China's soft power has substantially increased since the 18th CPC National Congress in 2012, making a vital contribution to the promotion of the causes of the Party and the nation.
"China ranks first in publications, production and broadcast of television dramas, and movie screenings."
Chen Kaiju, a professor at Guangdong University of Foreign Studies, said culture is a country's soft power and Chinese cultural companies will help further raise the country's reputation at home and abroad when they venture out of the mainland to set up foreign operations.