E-commerce propels Singles Day sales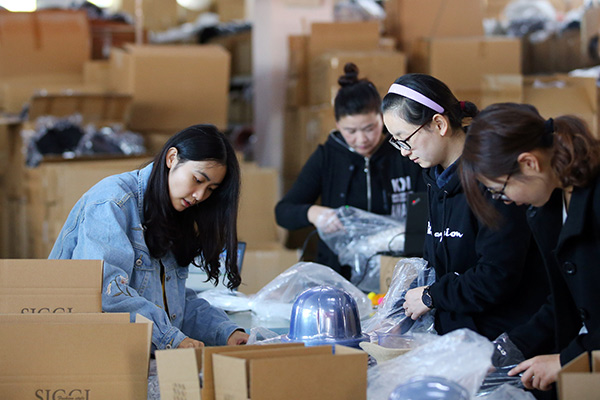 The packaging staff at the warehouse of a hat e-commerce company based in Nantong, Jiangsu province, pack products sold on Singles Day, Nov 11, 2017.[Photo/Xinhua]
Retailers take in over $1 billion an hour on 11/11 as compiled data are used to focus on consumers
Over 168 billion yuan in 24 hours-that translates into $1 billion per hour being spent by bargain hunters during the largest single-day shopping festival on Nov 11.
That sheer number almost tripled the size of last year's Black Friday and Cyber Monday in the United States combined and accounted for 5 percent of China's total retail sales of consumer goods in October, according to the National Bureau of Statistics.
While e-commerce is already big business in China, these stats exemplify just how deep-pocketed Chinese shoppers can be-and how technology can take retail to new heights.
Singles Day had a humble beginning in 2009, taking its name from the way Nov 11 was written numerically as four 1's, which resemble the unattached. But today it has become the most watched event in the world's retail calendar, thanks to its scale, variety and sophistication.
A brainchild of e-commerce behemoth Alibaba Group, the gala has today drawn in a number of e-commerce players to jump on the shopping bandwagon.
For example, JD.com, the nation's second-largest digital shopping site, rolled out an 11-day promotion through Nov 11 and harvested an impressive 127.1 billion yuan ($19.1 billion) in sales.
With Singles Day becoming a China-trademarked event, its significance has far surpassed that of gross merchandise volume, or GMV, and ever-rising numbers.
Instead, tech giants are wielding much power in revamping commercial infrastructure and mobilizing merchants to optimize online and offline experiences, experts said.
"The whole new retail development is helping to improve efficiencies on the retail infrastructure and greater engagement with consumers, including reaching into the rural market," said Matthew Crabbe, Asia-Pacific research director at consultancy Mintel, explaining the higher-than-market-expected increase of 39 percent year-on-year.
New Retail is the catchphrase of Alibaba this year, meaning the effort to help brands merge online and offline resources to offer customers a seamless shopping experience with the aid of artificial intelligence, big data and cloud computing technologies.
JD.com has its own version, dubbed "borderless retail", but shares that very same core.
To be more specific, AI is redefining the shopping experiences through an array of subtle enhancements, from uncannily precise product displays and prescient search engines that recommend relevant goods to customer-service chat bots that can resolve consumer complaints with minimum human intervention.
But that's just a tip of the iceberg. Tech gurus are converting retail outlets into "intelligent stores" that have drawn thousands of labels, from Nike to Shiseido to Wyeth. Through an interconnected system, they allow shoppers to track product availability at other locations in real time and get timely delivery to their doorsteps while choosing to pay with their phones.
The promotional event serves to roll out, test and validate the grand retail experiment.
"It (New Retail) is all about being even more consumer-centric, by featuring curated product assortments, exclusive services, elevated environments and user experiences, all tailored to the consumer," said Dennis van Oossanen, vice-president of Nike's direct sales division in China.
"By combining online discounts to offline training sessions... we get to see how our fans and consumers behave ... which will help us serve consumers personally, and at scale", said van Oossanen, whose company saw sales hit the 100 million yuan mark just one minute after the shopping festival kicked off.
The integration of virtual and physical landscapes is an area where China leads the way, said Danielle Bailey, Asia-Pacific research head at consultancy L2.
"In the West you have this battle of online and offline. ... Here through a variety of models (like the Hema Fresh food supermarket) you see where China has already had these things work, not just empty talking," she said.
Brands also stepped up, installing virtual reality backed mirrors that encourage consumers to try on different lipsticks, see how they'd look in selected items and allow for smarter clothing recommendation.
"Since introduction of these high-tech gadgets, we've integrated our membership systems with Tmall and saw traffic flow grow 20 percent in the current promotion season from the annual average," said Chen Xiaodong, chief executive of InTime Retail, a leading shopping mall chain.
The mission of Nov 11 has evolved from offering steep discounts only, to empowering and rejuvenating businesses. Alibaba founder Jack Ma said the platforms only succeed if their business partners succeed, and Chief Executive Daniel Zhang said Nov 11 came all thanks to the best resources, products and services that merchants pulled in.
Put that into perspective, "inventory tracking, brand building and getting more customer insights by melding online and offline resources are the key metrics for brands when it comes to Nov 11," said Jessie Qian, a partner at professional service company KPMG.
Such expansion efforts have even gone down to the mom and pop convenience stores across the nation's counties and villages.
From stocking shelves to running the register, tech giants have given these stores a digital makeover, updating operating systems and bringing modern analytics to a business that often is run by intuition.
"We've had a lot of challenges as we couldn't keep up the pace and (the merchandise) often ran out of stock," said Huang Donghai, owner of Weijun Grocery in Hangzhou, Zhejiang province. "Now, technologies offer a glimpse of the most sought-after items through data analytics, and allow us to order directly from manufacturers, which circumvents middlemen and trims costs."
Brands also benefit from the initiative. Snack food giant Mondelez leveraged consumer insights gleaned from corner shops to supply them with the products most likely to sell, which boosts the bottom line for both the brand and the store itself.
"Everybody wins," Stephen Maher, president of Mondelez China, told Alibaba's news site Alizila. "The consumers get the product they love, the retailer gets the profit from the sale and we get to satisfy yet another consumer."
Connecting neighborhood convenience stores marks the biggest test of a vision to reinvent the country's $4 trillion retail market, said Yang Yaqiong, senior analyst at Beijing-based consultancy Analysys.
"So behind the Nov 11 scene is an entire business ecosystem in play, which encapsulates logistics, cloud computing and payment services," she said.
Case in point: prompt deliveries are backed by Cainiao Network, the logistics arm of Alibaba, which uses algorithms to calculate the most cost-effective route in a complex road network.
JD.com runs its own warehouses and fleet and guarantees same-day delivery even in some intercity tasks. It also widely adopts the use of drones to bring parcels to far-flung areas.
Meanwhile, speedy and record-breaking transactions are bolstered by technologies. Alipay, Alibaba's e-wallet, handled 256,000 payments per second during peak time, backed by the group's cloud computing might.
And merchants can take advantage of its sister financial services to better prep for the big day.
Yang Juhua, a children's apparel seller on Alibaba's wholesaler site 1688.com, benefited from micro loan services provided by Ant Financial, Alipay's parent. By borrowing 170,000 yuan this year, she refrained from capital strain when stocking goods in the lead-up to the Singles Day.
And finally, entertainment plays a role. From a star-studded gala that dominates social media discussions, to Catch the Cat augmented reality games, people are shaking their phones for discounts, and more importantly, for fun.
"The shift in emphasis away from deep discounting and toward 'gamification' and 'retailtainment' also reflects the Chinese consumer market's shift from quantity to quality," Crabbe said.